Summer is the most popular season for travel and most people always plan ahead. However, last-minute holidays are perfect for a spur-of-the-moment adventure. Left it to the last minute to book your summer travel destination?
Here are our top picks for places you can't miss out on this summer:
W Bangkok
It's official: Bangkok, Thailand, takes the crown as this year's number one summer destination. Winning by a landslide, it's no surprise that this cosmopolitan city is the most sought-after destination for travellers and foodies alike. From grandiose temples dripped in gold to the thrill of zipping through alleyways in human-powered tuk-tuks and Michelin-starred dishes served at humble street-food stalls, Bangkok is an electrifying city where tradition embraces modernity.
Situated in the heart of Bangkok, the design and offerings of W Bangkok embody the capital's fusion of past and present to create a shimmering new scene. Interiors mirror the secrecy of the city's obscure alleyways and the evocative twists and turns of its corridors, while evoking spirits of the past and evoking the city's captivating collision of modern skyscrapers, ancient temples, and shimmering bijous.
The dynamic W Bangkok also offers electrifying experiences to the guests, including 'Daydream Weekend at WET' a chill-lax weekend poolside program with refreshing drinks, delicious food and chill beats from resident DJs, as well as 'W Does Brunch' which offers Club Marriott members a limitless line-up of international cuisine and a free-flow beverage menu.
Since opening in 2015, The House on Sathorn has emerged as one of the city's most distinctive culinary destinations. An architectural fusion of Bangkok's colonial past and contemporary Thai elegance, the majestic House on Sathorn is now home to an upscale restaurant and tearoom. Lovers of seafood, look no further than The House of Sathorn for a hearty and scrumptious feast complete with soft-shell crabs, razor clams, tiger prawns, and more. Or, when you want to wind down and relax, try the afternoon tea set with well-deserved pastries and Thai cuisine-inspired finger foods.
The Ritz-Carlton, Fukuoka
Famous for the best cuisine, shopping, and a variety of nature, and rich culture and historical legacy, Fukuoka, Japan, is a fantastic destination for families traveling with kids of all ages and preferences. It has also been chosen as New York Time's 52 Places to Go in 2023.
Rising above Fukuoka, the newly opened Ritz-Carlton, Fukuoka is situated within the 111-meter main tower of Fukuoka Daimyo Garden City, the tallest urban lifestyle complex in the city's core commercial district. The diverse food scene of the area is supported by 12 restaurants, including a ramen shop conceived by a Michelin-starred Chef.
Nestled adjacent to Tenjin, Fukuoka's vibrant and cosmopolitan region, the luxurious hotel is only a 15-minute walk from Hakata Station, where guests can take the Shinkansen, Japan's high-speed bullet train, to Tokyo and Osaka.
Designed for guests ages 4-12, the brand's Ritz Kids program offers child-friendly amenities and activities for kids staying at the Fukuoka location. The Ritz Kids® Night Safari invites young guests to enjoy their very own in-room camp experience with the mascot Leo the Lion as their faithful companion. Little explorers can build a felt-toy campfire, sleep in a tent, and, once the lights are turned down, explore every nook and cranny of the room with a portable lantern.
Fukuoka has a great selection of spots for fun-filled family trips, including nature sites, indoor amusement facilities, historic gardens, and animal parks that are all easily accessible by public transportation. Don't miss the opportunity to get up close to the dolphins at Marine World Uminonakamichi. On days with beautiful weather, wander around the vast flower fields at Nokonoshima Island Park.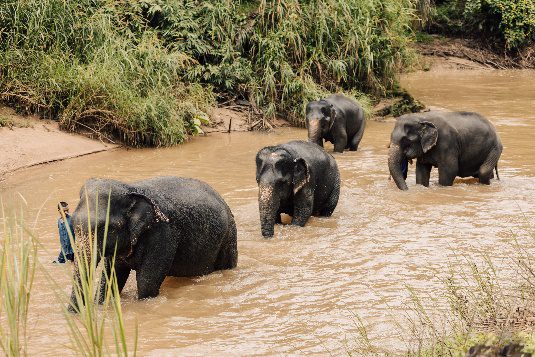 The Ritz-Carlton, Okinawa
Okinawa — one of Japan's most popular travel destinations — is uniquely rich in cultural history as a former kingdom and the birthplace of karate. Cherished for gloriously long subtropical summers, come find paradise in Okinawa amongst the magnificent beaches and shorelines, which are home to a vibrant ecosystem of whales, coral, and marine life.
The Ritz-Carlton, Okinawa, is a true escape: Located within the premises of the Kanehide Kise Country Club, The Ritz-Carlton, Okinawa's convenient location offers access to an on-site golf course, spa, fitness centre, pool, and a private beachfront.
Be sure to stop by the resort's award-winning spa, where you can unwind with an array of spa treatments in a tranquil sanctuary. Guests can easily spend the whole day in wellness facilities that include a vitality pool, relaxation cabanas, a cypress dry sauna, a large indoor pool, and a Japanese coral-tiled steam room that showcase Okinawa's natural charm.
Immerse yourself in five hundred years of remarkable Ryukyuan culture and history at nine castles and sites that have been designated as UNESCO Cultural World Heritage Sites. The archaeological ruins of these castles and monuments provide a window into the Ryukyu kingdom that laid the foundation for Okinawa's robust economic, gastronomic, and artistic developments.
The Ritz-Carlton, Okinawa, offers unique educational experiences for guests of all ages, including the opportunity to make coral seedlings at a local fishing port, which you will then plant by diving or snorkelling to the reef. Even after your departure, the resort will send you email updates about your coral's growth as a thank you for your contribution to the island's environmental protection efforts.
JW Marriott Jeju Resort and Spa
Retreat to Jeju, South Korea's natural oasis, for a rejuvenation of the mind, body, and soul on an island surrounded by breathtaking cliffside views and stunning volcanic coastlines.
Only an hour's flight from the South Korean mainland, the newly opened JW Marriott Jeju Resort and Spa is endlessly bathed in sunshine, perfect for any travellers looking to escape gloomy climates and soak up in the sun.
Perched on a cliffside overlooking a volcanic crater and lush flower fields, the JW Marriott Jeju Resort & Spa is an architectural masterpiece that exists in harmonious balance with the island's natural surroundings.
The resort's restaurants specialise in providing guests with extravagant dining experiences that highlight delicious and local ingredients and draw inspiration from the island's unique culinary palate. Enjoy the signature Jeju Brunch Royale, featuring a diverse buffet with unlimited champagne and premium caviar served upon seating at Island Kitchen with views overlooking the ocean. Discover unique local interpretations of omakase by a born-and-bred local chef in a private space, featuring seasonal ingredients and fresh seafood harvested by the island's local female divers called Haenyeo.
Inspired by the principles of mindfulness, the resort invites you to escape from the busyness of everyday life to listen to your emotional, spiritual, and physical needs, allowing you to foster closer connections to the rich culture and natural beauty of Jeju. Light Morning Walks, Morning Yoga, Pilates, Meditation Yoga, or Sound Healing sessions are offered in spectacular settings of beauty and serenity. Special interest activities are also available for guests to fully experience the culture of Jeju, including a Jeju Tea Ceremonies, Traditional Wine Tastings, and Wine Art Classes.
The St. Regis Kuala Lumpur
Combining modern day glamour with old-world elegance, The St. Regis Kuala Lumpur offers an unrivalled dimension of luxury, sophistication, and bespoke service for modern-day connoisseurs.
Located in one of the most prominent and romantic neighbourhoods in the city, The St. Regis Kuala Lumpur boasts magnificent vistas of Malaysia's bustling capital including Kuala Lumpur's largest park, the Lake Gardens, as well as the National Museum and Houses of Parliament.
Inspired by a luxurious Manhattan apartment, the hotel features an exquisite private Art Collection from a specially commissioned monumental horse sculpture by Fernando Botero and Mark Evans' leather murals depicting a powerful polo charge, to a three-dimensional Birds and Butterflies installation by Barnaby Hosking, inspired by the 131 year old Perdana Botanical Gardens.
With unblocked views of Kuala Lumpur's largest park, the Lake Gardens, families can go on a family fun staycation adventure and enjoy a series of timeless experiences. Further augmenting the experience, The St. Regis Kuala Lumpur offers the brand signature St. Regis Butler Service, which presents discreet, personalized, and anticipatory attention to every guest including the kids. Enjoy the Story Telling Session by St. Regis Butler with In-Room Play Tent and Play Set, together with complimentary Welcome Kit & Turndown Kids Amenities and a St. Regis Butler Bear. The package is valid until 22 December, 2023 for Marriott Bonvoy members.