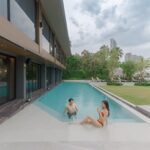 Bangkok, the vibrant heart of Thailand, has welcomed a new jewel in its luxury accommodation crown – the Ten Six Hundred. Perched on the tranquil banks of the storied Chao Phraya River, this exquisite boutique hotel extends an invitation to discerning travellers seeking an exceptional riverside retreat.
With its grand unveiling, Ten Six Hundred emerges as an embodiment of elegance, merging the allure of luxury with the solace of the riverside scenery. Within its walls, guests are greeted by an ambience that speaks to both the sophistication of Bangkok and the serenity of its waterfront setting.
Guests can select from a bespoke collection of 31 rooms, with options ranging from superior accommodations to lavish duplex pool suites. Each room is a testament to fine craftsmanship, chic interiors and state-of-the-art amenities. The allure of the address is not merely in its prestigious name, but in the experience it guarantees.
Culinary enthusiasts will revel in the variety of flavours at the hotel's distinguished dining establishments. The rooftop bar, meanwhile, offers a visual feast with panoramic views of the Chao Phraya River, setting the stage for unforgettable evenings.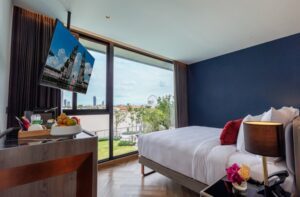 The hotel's strategic design includes versatile function rooms that serve as ideal venues for both professional engagements and personal events. Beyond business, relaxation awaits in the placid swimming pools and a fitness centre dedicated to guests' well-being, rounding out a robust offering of facilities.
As an ode to its commitment to delivering a tranquil experience, the property also features a study lounge designed to inspire productivity and repose amidst the city's dynamic tempo.
Celebrating its launch, Ten Six Hundred is extending an irresistible invitation with a 30% saving on flexible rates, further enhanced by a suite of exclusive benefits. ASR members can indulge in up to 45% off, double points accrual, and personalized perks.
This extraordinary opportunity to partake in the Ten Six Hundred experience is available until November 30, 2023, setting the stage for what promises to be the new benchmark of riverside luxury in Bangkok.
For those poised to immerse themselves in this rarefied offering, reservations can be made by contacting +66 2 204 4400, toll-free at 1800 888 272, or via email at enquiry.thailand@the-ascott.com. Further details are available at www.discoverasr.com, where the essence of Bangkok riverside luxury awaits.
Written by:

Supaporn  Pholrach (Joom)
===================================