Seventy-five years after Tiang and Samrit Chirathivat opened their first bookstore, Central Group's department store business has reached new heights of becoming an international luxury department store leader.
Tos Chirathivat, Executive Chairman and CEO of Central Group, said: "Our department store business has achieved a remarkable milestone of having the world's largest international presence of department store network, spanning across 11 countries, 80 cities, and 120 locations. Total department store sales will reach €6.7 billion or 260 Billion Baht this year. The addition of Selfridges Group into our department store luxury collection has made Central Group a true global leader in luxury retail with the highest number of international luxury flagship locations in the world's top destinations, and a thriving international luxury e-commerce platform. Above all, we are the proud owner of 19 crown jewel of properties, mostly situated for over a century in coveted areas at the heart of major European cities like London, Zurich, Rome, Copenhagen, Dublin, and Vienna."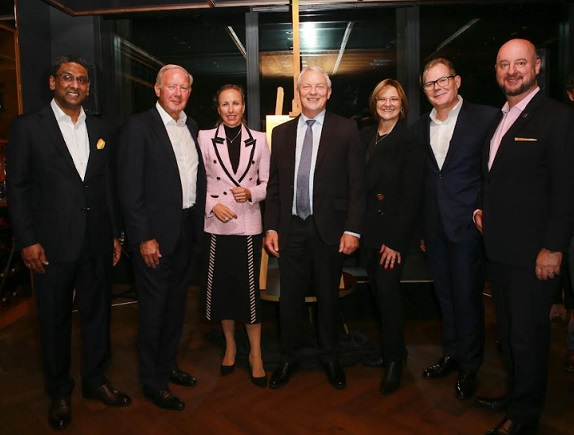 Since its founding, Central Group has been at the forefront of innovation, consistently creating new and unique customer experiences. The company built the first department store in Thailand, some of the region's most well-known department stores, and Thailand's first one-stop multi-purpose shopping complex. Its first foray into Europe began in 2011 with the acquisition of Italy's prominent luxury department store, Rinascente, followed by Illum in 2013, KaDeWe in 2015, Globus in 2020, and finally Selfridges Group earlier this year.
"Luxury has been Central Group's key growth pillar since the acquisition of Rinascente. In the same period, European luxury brands have consistently outperformed the market, driven by the global tourism boom. The luxury industry had been among the fastest to rebound from the economic crisis with resilient demand. Over the past decade, Central has cultivated trust and strong partnerships with all major luxury brands who co-invested with us in transforming stores into iconic retail destinations that locals and tourists love. In aggregate, Central Group's European stores welcome over 130 million visitors of over 200 nationalities each year. They have over 6 million loyalty members today – a true testament to the success of its luxury business to date." Tos Chirathivat.
Going forward, Central will push ahead with its luxury strategy in two main areas:
Strategy #1. Develop and expand the collection of iconic stores in major tourist cities in partnership with luxury brands
Store transformation and development are at the heart of Central's European strategy. Central works closely with the world's most influential brand conglomerates such as LVMH, Kering, and Richemont to uplift the luxury assortment, store image and shopping experience. Each store is designed to showcase the uniqueness of its city and heritage, a story that local customers and tourists appreciate. Food and gastronomy are also an integral part of the offer and transformation. They are best demonstrated at the newly rejuvenated KaDeWe in Berlin, Rinascente in Milan and Rome, and Globus in Zurich.
Several store transformation programs and new developments are ongoing in multiple countries. At Selfridges Oxford Street, a redevelopment of the underutilized hotel, car park and mews is being assessed to create additional value to this marquee asset. (Further information on ongoing projects can be found in the Notes to Editors section)
Strategy #2. Become a leading eCommerce platform and partner of choice for luxury and fashion brands with global reach
Central Group's European eCommerce platforms receive 30 million online visitors monthly and generate €1 billion in sales annually, accounting for 17% of total sales. Online orders are shipped to 130+ countries worldwide. International sales contribute up to 40% of Selfridges.com turnover. Such expansive scale and global reach are comparable to pure online retailers. The Group aspires to establish Selfridges.com as the ultimate global luxury online platform by leveraging the following: 1) Selfridges' global brand recognition, 2) merchandise & brand curation and exclusive collections across banners, 3) advanced technology and data to personalize and enhance customer experience, and 4) Group's presence in 11 countries to promote awareness beyond the local market and to provide omnichannel services that pure online retailers cannot easily replicate, especially in Thailand and SE Asia where Central Group is headquartered. Through this channel, customers in Thailand will have access to broader and distinctive luxury brands, assortment, and collections.
Edited by: Supaporn  Pholrach (Joom)
===========================================