Centara Grand at CentralWorld prepare to countdown to the New Year. Stepping into 2022, we're here for you to choose from 5 different ways to celebrate your happy moments and create your happy moments. Memories of you and your loved ones with special moments. New Year's Eve on Friday night, December 31st, in the midst of good atmosphere. Magnificent with premium food and beverages Have a great party and get a 360 degree view of the city's city skyline.
 Here's a little more information about these restaurants and our extra-special New Year's events.
Ventisi Restaurant (24th floor)
The culinary team of Ventisi brings revellers an unforgettable night featuring an irresistible selection of signature dishes and Italian & Thai inspired live cooking action. Sumptuous options include a large display of seafood on ice, freshly sliced sushi & sashimi, appetisers and salads, homemade bread, delicious soups, mouthwatering mains including meats & fish specialties, roasted classics, Indian delicacies, Thai favourites, Italian classics, Mediterranean delights and a wide selection of international cheeses served with an array of desserts, pastries and sweets! The feast is accompanied by an unlimited beverages package
 THB 2,999++ per person including unlimited beverage package
18.00 – 22.30hrs.
Uno Mas – Spanish and Mediterranean Rooftop Restaurant (54th floor)
UNO MAS hosts its annual "Spanish Surf & Turf Celebration" on the last day of the year and you're invited! A unique chance to dine 54 floors above Bangkok at the city's finest Spanish restaurant, this all-inclusive buffet promises stacks of seafood on ice, unlimited gourmet tapas, as many made-to-order Mediterranean-inspired mains as you can eat plus free flow G.H. Mumm Cordon Rouge Magnum Champagne (and other beverages).
THB 7,555++ per person
19.00 – 01.00 hrs. 
Red Sky Restaurant (55th floor)
All Courses are inspired by Chef Christian's and Executive Chef Andrea's past collaboration with some of the finest 3-Michelin Star Chefs, Past and Present with 8-course "Gala Dinner". Including a bottle of Exclusive G.H. Mumm Grand Cordon Champagne per couple
THB 11,999++ per person "Outdoors"
THB 9,999++ per person "Indoors"
19.00 – 02.00 hrs.
Party flavours, DJ & fireworks
Red Sky Mezzanine (56th floor)
Red Sky Bar's "Countdown Party" is the place to be on New Year's – offering stunning 360-degree views across Bangkok and the perfect vantage point to watch the sky light up with fireworks when the clock strikes midnight. The entrance fee to this exclusive rooftop party includes a glass of exclusive G.H. Mumm Grand Cordon Brut per person and party favors.
THB 1,999++ per person
19.00 – 02.00 hrs.
Party flavours, DJ & fireworks
CRU Champagne Bar (59th floor)
Take your New Years' experience up to the next level with CRU's exclusive "Grand Countdown Party" on the very top floor of the hotel. This unique alfresco venue boasts uninterrupted, panoramic views of the city, as well as a more intimate feel than other larger parties – making it all the more special. The entrance fee includes unlimited pours of G.H. Mumm Grand Cordon Brut and Mumm Olympe Rose Champagne and welcome nibbles all night long, live DJ and party flavours
THB 7,999++ per person
21.00 – 02.00 hrs.
Party flavours, DJ & fireworks 
For reservations and more information about New Year's Eve at Centara Grand at CentralWorld, please call 02-100-6255 or email: diningcgcw@chr.co.th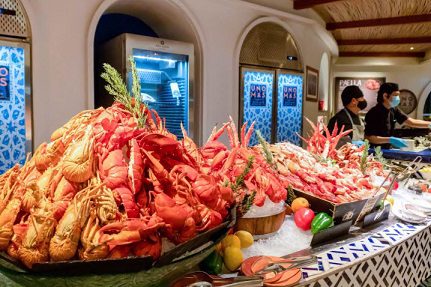 [pro_ad_display_adzone id="915575"]