Kew Green Hotels, one of the UK's leading hotel management companies with over 55 hotels in its portfolio, is continuing its global expansion with the signing of three properties in Bangkok to be delivered by Siamese and Kew Green Management Company Thailand: Crowne Plaza Rama 9, Cassia by Banyan Tree Rama 9 and Cassia by Banyan Tree Ram Intra. This is in addition to the signing of four hotels under the Wyndham Hotels & Resorts brand umbrella which are due to open in Bangkok from the end of 2021, bringing it to a total of seven hotels in Thailand.
As part of Kew Green Hotels' growing global presence, they have entered into a global partnership with the award-winning Light Human Hotels, announcing the first collection of hotel openings: Light Human Hotels Vila Real Porto in Portugal will open in 2022, followed by Light Human Hotel Curitiba in Brazil from 2023. Future Light Human Hotels, exclusively managed by Kew Green Hotels, will include Paris, Porto Marina in Portugal, Miami, Corsica, São Paulo and Rio de Janeiro.
Confident in Thailand's position as a world-class tourism destination, and as the country is preparing to open to international arrivals outside of the Sandbox in Phuket, Chris Dexter, Chief Executive Officer of Kew Green Hotels remarked "We are delighted to be continuing our expansion globally, both into South East Asia, as well as in the Americas and in Europe. This announcement reflects Kew Green Hotels' broadening expertise in the international hotel market and reputation for operational excellence, strong commercial awareness and industry leading profit delivery."
Siamese and Kew Green Management Company Thailand expansion

Siamese and Kew Green Management Company Thailand will launch a total of seven properties in the heart of Bangkok from late 2021: The Wyndham Queen Convention Centre, Wyndham Garden Sukhumvit 42, Ramada Plaza by Wyndham Sukhumvit 48, Ramada by Wyndham Sukhumvit 87, Cassia by Banyan Tree Group Rama 9, Crowne Plaza Bangkok Rama 9 and Cassia by Banyan Tree Group Ram Intra. Alongside the launch of these seven properties, Kew Green Hotels will also be launching a Commercial Hub for South East Asia to support the region, based in Bangkok.
Cassia by Banyan Tree Rama 9 will launch in 2023 with 300 rooms within a mixed-use development, Siamese Rama 9, which also features high-end apartments, office space and a mall. Close to the Thai capital's new central business district, the property is conveniently located on the bustling Rama 9, offering exceptional access to world-class shopping at Central Plaza Grand and connectivity to the rest of Bangkok via a nearby MRT station.
Crowne Plaza Bangkok Rama 9, due to launch in 2023, features 285 rooms, also within the mixed-use development, Siamese Rama 9. This marks the first time IHG has completed a franchise agreement in Thailand, as they expand their relationship with long-term partner Kew Green Hotels, as part of the Joint Venture with experienced Thai real estate developer, Siamese Asset.
Cassia by Banyan Tree Ram Intra is a home away from home for leisure and business guests, located in north east Bangkok, with connectivity to the Thai capital's central business district and leisure attractions. The hotel features 220 rooms and will launch in 2024.
Kew Green Hotels announce global partnership with Light Human Hotels

Light Human Hotels Vila Real Porto opening in the last quarter of 2022, features 124 bedrooms and suites and is nestled within a community of residences and luxury retailers just five minutes' drive from the centre of Vila Real, an hour east of Porto's International Airport. The resort is well-located to explore the verdant local area including the lush valleys and towering mountains of Parque Natural da Serra do Alvao and just 20 minutes to the Douro Valley, world-famous for its vineyards and breath-taking scenery.
Light Human Hotels Curitiba opening from 2023, offers 180 bedrooms and suites and is located in the luxurious Batel neighbourhood, offering easy access to the commercial and experiential centre of Curitiba, known as Brazil's 'green capital' (The Guardian) and the "most innovative city in the world". Bringing together working, moving and living leisure, Curitiba has become the gold standard in sustainable urban planning. The resort is located less than 20 kilometres from Curitba's Afonso Pena International Airport.
Each of the Light Human Hotels will feature the brand's signature amenities including gastronomy designed by Michelin Starred Chef Baptiste Danieul, spa services by L'Occitane, a state-of-the-art swimming pool, events and wedding spaces, a family play area and a kid's bar. Creativity is at the heart of the Light Human Hotels concept with the hotel showcasing art curated by Muzéo, and architecture by the multi-award-winning Atelier Arcau.
As hotel management partners, Kew Green Hotels set themselves apart by combining years of experience with innovative ideas to deliver outstanding hotel services and by delivering exceptional returns for hotel owners and partners across the world. Combining market-leading technology with expert talent, their Commercial Hub integrates proactive and reactive sales, marketing, analytics and revenue management, to support their increasing hotel portfolio, providing a consolidated approach to deliver growth.
For more information, please visit: kewgreen.co.uk and lighthumanhotels.com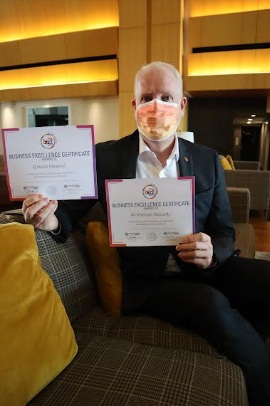 [pro_ad_display_adzone id="915575"]