Sindhorn Kempinski Hotel Bangkok celebrates the 12th anniversary of the iconic Lady in Red programme, joining every Kempinski hotel around the world in commemorating this embodiment of Kempinski elegance and style in service.
Focusing on customising guest stays that exceed expectations, the Ladies in Red have become renowned for their understanding and attention to detail when it comes to enhancing every experience while visiting a Kempinski hotel. To honour them, Sindhorn Kempinski will be treating visitors to special signature Lady in Red cakes, sweets, and services from 17 to 23 January 2022.
From their welcoming smiles to their Ferragamo Vara red shoes, a Lady in Red is immediately recognisable. Their striking red outfits blend Kempinski's traditional European style with classic Thai flourishes, as every Lady in Red represents the best in Kempinski and in the destination city. This is furthered by their expansive local knowledge and comprehensive hospitality skills to assist guests at every moment, from check-in to check-out.
"A Lady in Red can curate the ideal experience for every guest, whether business or leisure, formal or spontaneous," explains Thaddaeus  Weiss, Hotel Manager "Discrete and discerning, they can help create memorable moments or perfectly executed events seamlessly with grace and signature Kempinski style."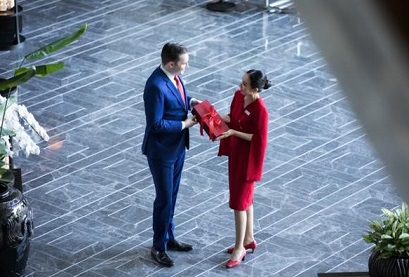 [pro_ad_display_adzone id="915575"]