IGNIV Bangkok (1 Michelin Star) invites guests to experience the Art of Sharing with the new Autumn Menu, presented in 20 handcrafted dishes available from September to November 2023. Inspired by a blend of Head Chef David Hartwig's cherished home flavors and international adventures, especially in New York during autumn celebrations over Thanksgiving and Halloween. This menu promises a journey with archetypical autumn produce, such as eggplants, pumpkins, carrots, and other root vegetables, as well as other staples, including deer, pork cheeks, foie gras, apple, Gruyere cheese, Langoustine, Caviar, Hazelnuts and more.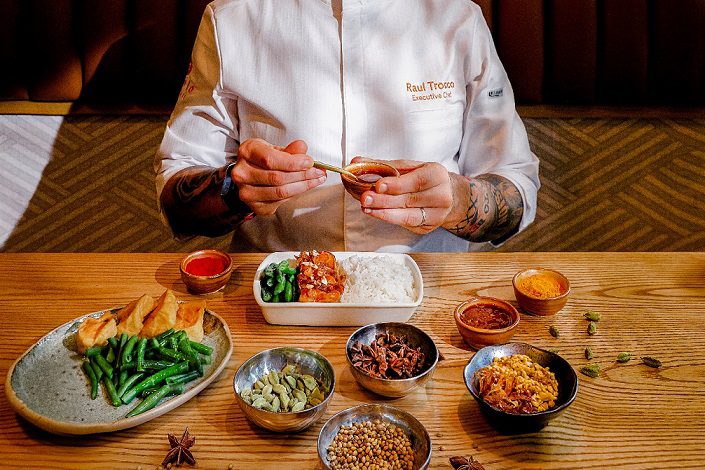 "Each dish is personal to me, in which I think about ingredients I like to eat and draw inspiration from my memories, including my workplace, my favorite food I ate and cooked, and locally available seasonal produce. I also take a few more points into consideration: the uniqueness of the menu and if it suits well with the IGNIV identity. This is then expressed through unique dishes and refined through discussions with my team," says Head Chef David Hartwig.
Setting itself apart from fine dining establishments, the experience at IGNIV is warm and cozy. Sharing the spotlight with Chef David and Sous Chef and Pastry Chef Arne Riehn is Restaurant Manager Regina D'Souza, who ensures every team member is engaging, attentive, and embodies the true spirit of the IGNIV family.
On arrival, IGNIV team warmly welcomes guests to sit at the kitchen counter, where they can enjoy welcome snacks and have the opportunity to interact with the chefs. They then invite the guests to their table to enjoy the rest of the meal, with short visits from chefs and service team members to share the stories behind each dish through the entire sharing experience.
The Autumn Menu is available daily for dinner (5:30 PM – 12:00 AM, last order 9:30 PM) from September 1 – November 30, 2023. This latest menu features 20 dishes of one IGNIV sharing experience, priced at THB 4,900++ per person, or Carte Blanche menu including surprise dishes at THB 7,900++ per person. A vegan, vegetarian, a la carte, or kids menu is available to cater to dietary requirements and families. Stay tuned for an exclusive event this November 2023 with Chef Andreas Caminada, the founding chef of IGNIV Bangkok with 3 Michelin stars.
Advanced reservations recommended. Please call +66 2207 7822, e-mail igniv.bangkok@stregishotels.com, visit www.ignivbangkok.com or link http://bit.ly/IGNIVBangkokReservationAP