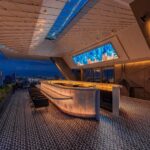 In a dazzling marriage of luxury and groundbreaking innovation, Meliá Hotels International has unveiled its newest jewel in Bangkok's crown, INNSiDE Bangkok Sukhumvit. As the first of its kind in Thailand, this 34-storey marvel has taken the On Nut neighbourhood by storm.
While 2020 witnessed the captivating nautical vibes of Meliá Koh Samui and the wellness aura of Meliá Phuket Mai Khao, 2021 saw the contemporary chic of urban hotel Meliá Chiang Mai. This year's grand entry, INNSiDE by Meliá, joins a coveted ensemble of Meliá Hotels that spans 14 countries. Reflecting a cosmopolitan flair, this chain beckons the global nomad, those who navigate work and leisure with a seamless élan.
A mere half-hour from the Suvarnabhumi Airport, its location at 1472 Sukhumvit Road positions it near Bangkok's key attractions. Business and leisure travellers will appreciate its accessibility to the bustling On Nut BTS Skytrain station and the expansive BITEC convention centre.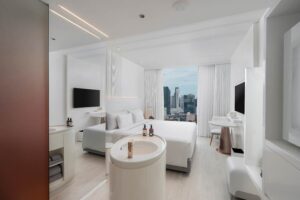 As you ascend to the hotel's 32nd floor, the co-working zone stretches before you, offering panoramic glimpses of Bangkok's sprawling metropolis. This unique space, with its five multifunctional rooms, including the avant-garde 'Big Ideas Space', provides a flexible platform for corporate and social events.
The hotel houses an assortment of gastronomic adventures. The 34th floor, home to The Giant Swing Pool Bar, promises a mix of Mediterranean, Thai, and international delights. As the sun sets, the LUZ Bangkok Tapas Bar on the 33rd floor lures patrons with its traditional Spanish tapas and wines, all curated by Chef de Cuisine Laia Ferrer. Her expertise fuses Thai ingredients with a Spanish twist, delivering dishes reminiscent of her Barcelona heritage.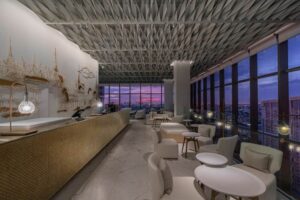 Another highlight, The Kites Eatery, serves a melange of regional Thai dishes using locally sourced ingredients. Here, diners can indulge in words like the signature Kites Pad Thai while enjoying views of Bangkok's vibrant cityscape.
The design of INNSiDE by Meliá is an ode to Bangkok's iconic landmarks. From the reflections of Rama VIII Bridge in the tapas bar to the intricate designs inspired by Wat Phra Kaew in The Open Living Lounge, Bangkok's essence reverberates.
The accommodation caters to varied preferences. Whether one opts for the 'INNSiDE Room' with panoramic city vistas or the spacious 'The Townhouse' suites with its upscale amenities, comfort meets luxury at every turn. Noteworthy is the hotel's commitment to sustainability, with efforts such as a ban on single-use plastic and the provision of organic amenities.
Ignacio Martin, Meliá Hotels International Managing Director for Asia Pacific, exclaims, "INNSiDE Bangkok Sukhumvit encapsulates the spirit of Bangkok, blending the city's energy with the freedom to connect or disconnect amongst a vibrant community."
With an introductory discount of 15% on room tariffs from July to October 2023, the INNSiDE by Meliá Bangkok Sukhumvit invites guests to embrace a distinctive hotel experience. Bookings and enquiries can be made at melia.com or via email at reservation.innside.sukhumvit@melia.com.
Written by:

Supaporn  Pholrach (Joom)
===================================