Raffles Courtyard invites guests to experience a tantalising culinary spread that marries authentic Thai flavours and traditional French cooking styles, prepared by Chef Vincent Pang of private dining concept Pun Im, amid the lushly landscaped alfresco venue at Raffles Arcade.
Available from 25 October to 21 November, the collaboration with Pun Im is the final instalment in Raffles Courtyard's Private Chef Series, which features beloved culinary creations by the best private chefs in Singapore.
Pun Im was originally created to serve as a platform for Chef Vincent, a former hedge fund manager, to hone his culinary skills while he embarked on a career switch, training with Le Cordon Bleu Dusit in Bangkok in French Cuisine and Patisserie. As a result, Chef Vincent's distinctive culinary style, which melds Thai cuisine with French cooking techniques, was born.
Guests can look forward to enjoying Chef Vincent's delectable culinary creations at Raffles Courtyard, starting with appetisers such as Tom Yum Crab Cakes, juicy jumbo crab cakes redolent with Thai aromatic herbs, breaded and fried to crisp perfection, and garnished with Tobiko roe, or Royal Thai Crispy Rice Crackers with Pork and Peanut Sauce, a light and airy crisp rice cake served with a creamy and robust pork and peanut sauce. Another signature Thai concoction, Miang Kham, combines toasted coconut, roasted peanuts, dried shrimp, bird's eye chili and julienned Japanese torch ginger in a fresh wild betel leaf wrap. Drizzle a dollop of sweet and savoury sauce over the leaf-wrapped bite for an explosion of flavour with every mouthful.
For the main course, indulge in the flavourful Red Curry Duck Confit, which blends the elegance of a crispy yet incredibly tender French duck confit with the savoury richness of Thai red curry. Enjoy this medley of distinct flavours and texture with a side of fragrant coconut kaffir lime rice. Complete your meal with a Thai-style dessert, Black Sticky Rice 2 Ways, a decadent treat that is creamy, sweet and savoury all in one. A sprinkle of toasted rice powder adds texture and a nutty depth to this Thai classic, which features Thai glutinous rice pudding with a splash of coconut cream sauce.
Guests can enjoy all of Chef Vincent's signature dishes served together with rice with The Pun Im Bundle (S$80++ for two pax), or choose to order the dishes a la carte. The Raffles Courtyard x Pun Im menu will be available daily from 25 October to 21 November, 3:00pm to 9.00pm. Exclusively on Mondays between 6:00pm to 9:00pm, guests will also have the opportunity to meet and mingle with Chef Vincent Pang, the homegrown talent behind Pun Im.
Raffles Courtyard's own delectable signatures, including Southeast Asian small plates and authentic Singaporean delights, will be served daily, alongside beloved specialties prepared by Chef Vincent Pang. Choose from among Raffles Courtyard's curated selection of thirst-quenching mocktails, refreshing cocktails, spirits, beers, and wines to accompany these coveted culinary creations.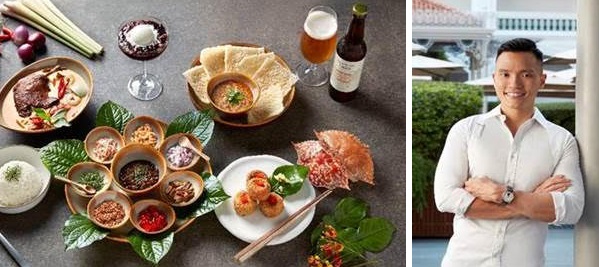 For all enquiries and reservations for dining experiences at Raffles Hotel Singapore, please call +65 6412 1816 or email at singapore@raffles.com.
When:
Raffles Courtyard x Pun Im: 25 October to 21 November 2021

Mondays – Fridays, 3.00pm to 9.00pm

Chef's Appearance: Every Monday from 6.00pm to 9.00pm

Where:
Raffles Courtyard, 328 North Bridge Rd, Singapore 189673
Dress Code:
Casual Chic (No shorts and slippers)
Website:
http://www.rafflessingapore.com/restaurant/raffles-courtyard/
Enhanced safety and hygiene measures
As we navigate through the ongoing pandemic, Raffles Hotel Singapore continues to embody the philosophy that guides our service excellence, whilst maintaining the highest hygiene standards to safeguard the health and wellbeing of all our guests and staff. Guests can be reassured that all public spaces and restaurants have been reconfigured to facilitate safe distancing and there is a strict adherence policy in place to HACCP principles for food preparation and hygiene. Specific to dining, guests are invited to discover our digitalised menus made available for all restaurants featuring a la carte and made-to-order options.
[pro_ad_display_adzone id="915575"]