The St. Regis Bangkok celebrates the festive season with a culinary and wellness program for friends and families to celebrate meaningful moments.
IGNIV Bangkok commences the season's festivities, presenting a "Festive" menu from December 23 – 26, 2021 with highlights including Red Beet–Yuzu–Cornetto; Langoustine–Radish–Red Onion; Foie Gras–Truffle–Gingerbread. From December 27 – 31, 2021, revelers can enjoy a selection of the year's favorite dishes in the "2021 Review" menu featuring dishes curated by the IGNIV team including Kohlrabi–Lobster–Chip; BBQ pork–Plum–Pork cracklings; and Wagyu striploin–Pickled onions–Ponzu. Especially ideal for the holiday season, the restaurant's sharing concept allows guests to connect with each other through the blessing and enjoyment of a shared meal.
On December 24, 2021, VIU also gets in the spirit of the season, starting off with a dinner buffet featuring Christmas choir performances and classic holiday favorites such as Roasted turkey; Seared foie gras with Cherries mulled wine; Spiced roasted lamb leg with tarragon jus; and Grilled Boston lobster with Lemon and Rosemary butter sauce. Celebrations continue over Christmas Day brunch and dinner on December 25.
On New Year's Eve, guests are invited to count their blessings and look forward to new beginnings with an extraordinary feast at VIU. Highlights include fresh sea urchin from Japan; Boston lobster; Gillardeau oyster from France; 36 month Jamón Ibérico from Spain; Champagne crème; Morello cherry Linzer; and Moscato pear with chocolate Bavarois cake.
The seamless New Year's Eve revelries continue over at The St. Regis Bar, where guests can anticipate the arrival of the new year with live entertainment including live music and DJ, and lucky prize draws. An Avruga caviar set served with condiments and two cocktails are served on arrival, and guests can enhance the countdown celebrations with VIP tables for two at the counter bar or next to the window, complete with a bottle of Champagne to ring in the new year with a loved one.
One couple or group of up to four guests can count down to the new year on top of the world with an impeccable one-night stay in The Owner's Penthouse. For the exclusive experience, guests arrive in style in a luxury limousine and be transported to the height of urban living, where they enjoy an afternoon tea, a New Year's Eve dinner at IGNIV Bangkok, bottle of Bollinger Champagne to ring in the new year from their personal 44th floor viewing terrace. The next morning, breakfast in bed and New Year's Lunch Buffet for four persons ease guests into the new year in absolute comfort.
On January 1, 2022, guests can celebrate the bounty of a new year with an all-you-can-eat New Year's Day lunch buffet hosted at VIU. The plentiful lunch features sumptuous favorites including Slow roasted beef prime rib; Whole roasted suckling pig; Seared foie gras with Port wine reduction; and seafood on ice.
Throughout the festive season from December 1, 2021 to January 31, 2022, guests are also invited to enjoy a taste of the holidays with a Festive Afternoon Tea Set presented every afternoon at The St. Regis Bar. The selection of savory and sweet delights inspired by the holidays include Roasted turkey with cranberry jam sandwich; Honey glazed ham with green apple and cinnamon; Foie gras terrine and fig on crostini; Chocolate pistachio truffle; Santa belly macaron; White winter verrine; mint chocolate chip and cinnamon brown sugar scones.
Also available until January 31, 2021, The St. Regis Bangkok Hamper Sets allow guests to give the gift of love. Filled with festive treats, hampers include handcrafted chocolates, Christmas panettone and stollen, teddy bear, with optional bottle of Prosecco and choice of a la carte festive goodies.
Advance reservations are highly recommended. For reservations and further information, guests can call +66 2207 7777, email fb.bangkok@stregis.com or visit www.stregisbangkokdining.com
The St. Regis Bangkok Festive Program 2021 – WINTER WONDERLAND
December 24, 2021
Christmas Eve Dinner Buffet at VIU
Time: 6:00 PM – 10:00 PM
Highlights: Roasted turkey, seared foie gras, spiced roasted lamb leg, glazed ham, unlimited Boston lobster
THB 3,600++ per person including free flow non-alcoholic drinks (THB 4,899++ including free flow alcoholic drinks and THB 5,700 ++ including free flow Bollinger Champagne)
THB 1,800++ per child between 4 – 12 years of age
December 25, 2021
Christmas Day Brunch at VIU
Time: 12:30 PM – 3:30 PM
Highlights: Roasted turkey, seared foie gras, poached pear with ricotta cheese, strawberry tower, unlimited Boston lobster
THB 3,600++ per person including free flow non-alcoholic drinks (THB 4,899++ including free flow alcoholic drinks and THB 5,700 ++ including free flow Bollinger Champagne)
THB 1,800++ per child between 4 – 12 years of age
Christmas Day Dinner Buffet at VIU
Time: 6:00 PM – 10:00 PM
Highlights: Roasted turkey, spiced smoked salmon, Wagyu beef striploin, macaron tower, a whole Boston lobster per diner
THB 2,600++ per person (THB 3,899++ including free flow alcoholic drinks and THB 4,700 ++ including free flow Bollinger Champagne)
THB 1,800++ per child between 4 – 12 years of age
December 31, 2021
New Year's Eve Dinner Buffet at VIU
Time: 6:00 PM – 10:00 PM
Highlights: International menu with the finest flavors including fresh sea urchin from Japan, Gillardeau oyster from France, Lamb rack from New Zealand, unlimited Boston lobster
THB 3,900++ per person including free flow non-alcoholic drinks (THB 5,199++ including free flow alcoholic drinks and THB 6,000 ++ including free flow Bollinger Champagne)
THB 1,950++ per child between 4 – 12 years of age
New Year's Eve Countdown at The St. Regis Bar
Time: 6:00 PM – 1:00 AM
Highlights: Avruga caviar set served with condiments, live music, new year prize draw, and countdown celebrations
THB 2,200++ per person, including two cocktails
THB 8,000++ per couple for VIP table on bar counter, including a bottle of Sparkling Brut
THB 12,000++ per couple for VIP table by the window, including a bottle of Bollinger Champagne
New Year's Eve in The Owner's Penthouse
Highlights: Limousine transfer, in-suite afternoon tea, 2021 Review Menu dinner experience at IGNIV Bangkok, and New Year's Day Lunch Buffet for 4 guests
THB 300,000++ per booking 
January 1, 2022
New Year's Day Lunch Buffet at VIU
Time: 12:30 PM – 3:30 PM
Highlights: Slow roasted beef prime rib, whole roasted suckling pig, seared foie gras, seafood on ice, Baked Alaska ice cream station
THB 2,600++ per person (THB 3,899++ including free flow alcoholic drinks and THB 4,700 ++ including free flow Bollinger Champagne)
THB 1,300++ per child between 4 – 12 years of age 
December 1, 2021 – January 31, 2022
Festive Afternoon Tea Set at The St. Regis Bar
Time: 2:00 PM – 5:00 PM
Highlights: Roasted turkey with cranberry jam sandwich, honey glazed ham, foie gras terrine, smoked salmon mousse tartlet, Santa belly macaron, Mont Blanc, Mint chocolate chip and cinnamon brown sugar scones
THB 1,600++ per couple, including tea and coffee
THB 395++ per festive cocktail 
Available until January 31, 2022
The St. Regis Festive Hamper Sets
THB 6,800 net for Luxury Hamper Set
THB 5,800 net for Classic Hamper Set
IGNIV Bangkok
Festive Menu, December 23 – 26, 2021
Time: 12:00 PM – 3:00 PM and 6:00 PM – 11:00 PM
Highlights: Fine dining sharing experience featuring flavors of the season and candy store with festive surprises
THB 5,500++ per person
THB 8,800++ per person, including wine pairing
2021 Review Menu, December 27 – 31, 2021
Time: 12:00 PM – 3:00 PM and 6:00 PM – 11:00 PM
Highlights: Selection of guests' favorite dishes throughout the year, and candy store with festive surprises
THB 5,500++ per person
THB 8,800++ per person, including wine pairing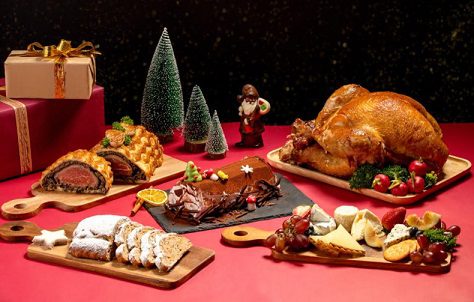 [pro_ad_display_adzone id="915575"]