Returning for the first time in three years since the pandemic, Thailand's Wonderfruit festival comes back stronger as one of the world's biggest gatherings to showcasing the intersections of global culture.
Just 6 months until they manifest into a city of wonder, they announce the first installments of their Experiences Programme as well as performers across music, art & architecture and wellness. Set amongst the lush rolling tropical fields at Siam Country Club just 2 hours from Bangkok, the festival will transform into a unique setting of experiences filled with Ancient Forest, Meditative Soundscapes, Sonic Nature Immersion, a new community based art project Wonder OK, ancient rituals in wellness with the Human Body as Axis Mundi and reimagined spaces for both humans and nature with Architecture that feeds.
Art comes from world renowned Japanese contemporary artist Yayoi Kusama who presents her Flower Obsession (Sunflower), Wonder OK, by Navin Rawanchaikul's StudiOK who will be creating community art from Wonderfruit's visual history and submissions from wonderers. Wonderfruit family Ab Rogers Design returns to rebuild and reform his magnificent whimsical structures which this year include a series of new piazzas. Boonserm Premthada who has recently been showcasing his natural-world themed structures in Versailles Summer Architectural Biennale (2022) and Venice Architectural Biennale (2021), has been designing structures with humble Thai materials in the Wonderfruit farm and fields. Plus two specially curated projects for Wonderfruit 2022 with a unique Ancestral Forest designed with SUGi, the world's leading network of Miyawaki Forest Makers. And Sonic Elements with MSCTY Studio, a collaborative project designed to enhance the relationship with the natural world through sound and space.
Live musical performances come from multi-talented Japanese producer Soichi Terada, Kai Campos (Mount Kimbie) and MSCTY Studio x Yumiko Morioka who, for the first time ever will perform her recently re-released Resonance album (1987) along with a green tea ceremony conducted by her daughter. Erased Tapes return with a unique collaboration showcasing Hatis Noit, Masayoshi Fujita, Penguin Cafe, Anne Müller, H3F, Autta and Forest clad performance art and art rock band Snapped Ankles. Legendary Molam Singer Angkanang Kunchai takes to Wonderfruit's now iconic Molam Bus. 11 piece abstract Japanese outfit Ajate, experimental artist Telefon Tel Aviv and Berlin based Cellist Anne Müller. On the electronic spectrum Ben UFO, D. Tiffany, Dresden (Ivan Smagghe x Manfredas) the legendary TOM oF ENGLAND and an artist credited with defining the sound of San Francisco House music Garth. As always Wonderfruit highlights local and regional acts such as Durian Radio, and More Rice Records being part of the programming.
Pranitan Pete Phornprapha, Wonderfruit Founder:
Since the last time we gathered, it feels like we have left behind a different world. The pandemic gave us the opportunity to pause for a long moment, think back at where we had started, and look ahead more clearly to where we want to go. While life ahead is unknown, I am recognizing that to be vulnerable through this lens is to grow and engage with it. To focus on the things that matter. And it's in these moments that life expands.
Culture has shaped me for as long as I can remember, from the music I listen to, the art I connect with, to the flavours and forms I love. Since our inception, we have always been exploring how we can live more closely with nature. Through it, I realized the significant connection with our minds, and the intersection of the external and internal worlds we all live in. This year, we will examine this relationship more closely and lean even more on culture as a catalyst for growth.
Still with so much more to come, Wonderfruit continues to ready itself to welcome everyone back to blur the boundaries between worlds. A creative exploration of culture and human rituals.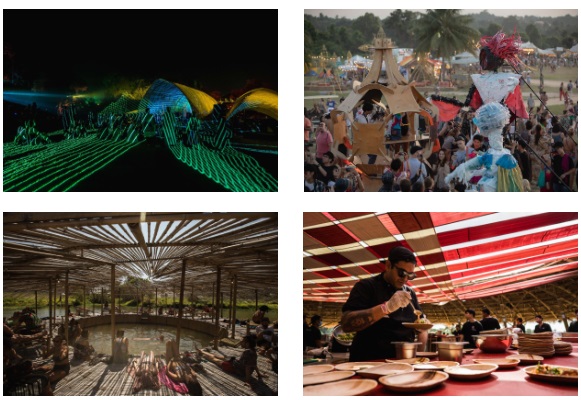 [pro_ad_display_adzone id="915575"]