Galaxy Macau™ ("Galaxy Macau") is serving up an irresistible selection of gastronomic wonders this summer, with a menu of special events, tempting offers, and unique promotions that are sure to whet guests' appetites. Cocktail connoisseurs won't want to miss Kate Gerwin of the award-winning bar "Happy Accidents" as she delivers a mixology masterclass at The Macallan Whisky Bar & Lounge, and lovers of Italian cuisine can look forward to the visit of the acclaimed guest chef Paolo Olivieri at Terrazza Italian Restaurant for a special six-course dinner with Champagne pairing. Taking contemporary Thai cuisine to bold new heights at Saffron is recently appointed Executive Chef Jan Ruangnukulkit, who presents a brand new À la carte menu of authentic flavors with a modern twist, while Café De Paris Monte-Carlo launches its Summer Festival Menu, filled with the freshest French seasonal ingredients. And the much-loved Malaysian Food Festival returns after a three-year hiatus, bringing with it an eclectic array of the country's signature dishes and premium durian. This wide and varied range of dining experiences for international travelers also supports the Macau SAR Government's "Tourism + Gastronomy" initiative, as part of the efforts to develop Macau into a World Center of Tourism and Leisure.
A World-class Bartender Guest Stars at The Macallan Whisky Bar & Lounge
The Macallan Whisky Bar & Lounge at Galaxy Macau welcomes one of the world's most celebrated bartender for one night only as Kate Gerwin of multi-award-winning bar "Happy Accidents" jets in for an exclusive takeover on Thursday July 20, 2023. With more than two decades of experience under her belt, Gerwin was the first woman to be crowned "Bols Around The World Bartending Champion" in 2014 and was inducted into the "Tales of the Cocktail Foundation Dames Hall of Fame" in 2015, as well as being named one of the 100 most influential people in the beverage industry globally by "Drinks International".
Gerwin, who also appeared in the recent Netflix show "Drink Masters", is the co-owner of the hugely acclaimed "Happy Accidents" in Albuquerque, New Mexico, which has forged a reputation as one of America's most distinctive and creative bars since opening in 2021. Named as the "Best New American Cocktail Bar" in 2022 by Tales of the Cocktail, the world's leading cocktail conference, and honored as "Best New Bar" by Liqour.com at the 2022 Liquor Awards, "Happy Accidents" isn't just known for its incredible cocktails, but also for distilling and blending its own unique products and spirits.
At The Macallan Whisky Bar & Lounge, guests will have the chance to tastes pecially created cocktails that Gerwin will be whipping up during the night behind the bar, starting at 6 – 10pm on July 20, 2023. This rare opportunity to taste Gerwin's creative concoctions in Macau is an event no cocktail lover can afford to miss. To make a reservation, call +853 8883 2136.
Indulgent Italian Dining with a Renowned Culinary Maestro at Terrazza Italian Restaurant
Lovers of Italian food should mark Tuesday July 18, 2023 in their diaries as the acclaimed Chef Paolo Olivieri will be in town to helm the kitchen at Terrazza Italian Restaurant at Galaxy Macau for one night only. Head Chef at fêted Italian restaurants SPIGA and FIAMMA in Hong Kong, Chef Olivieri will present a special six-course menu focused on classic Italian recipes with a contemporary twist. Using the freshest seasonal ingredients, the chef will showcase the depth and breadth of Italian gastronomy, demonstrating the flavors, textures and exquisite presentation for which he is known. To complement Chef Olivieri's culinary brilliance, our sommelier will pair the dishes with exceptional Maison Mumm RSRV Champagnes.
Born and raised in Rome, Chef Olivieri was trained at the Etoile Academy, one of Italy's finest culinary schools. He then launched his career at Armani/Ristorante, the Italian fine-dining restaurant at the Armani Dubai hotel in the iconic Burj Khalifa, where he worked under the famous Michelin-starred Chef Alessandro Salvatico, before joining Ting at The Shard in London in 2015. He moved to Hong Kong in 2019 to lead the kitchen of SPIGA, Chef Enrico Bartolini's first restaurant in the city.
Beginning with cocktails at 7pm, followed by dinner and wine pairing at 7.30pm on July 18, 2023, this spectacular dining experience is priced at MOP 888 per person (subject to a 10% service charge). Reserve your table now and savor the artistry of Italian cuisine at its finest. To make a booking, please call +853 8883 2221.
Saffron's Brand New À La Carte Menu Showcases the Best of Contemporary Thai Cuisine
If you're craving the unmistakable scents and flavors of authentic Thai cuisine, look no further than Saffron at Banyan Tree Macau, where Executive Chef Jan Ruangnukulkit has launched an irresistible new menu just in time for summer. Chef Jan has created a selection of showstopping dishes that embody her distinctive take on Thai cuisine by blending authentic flavors and premium ingredients with contemporary creativity. These include Miang Kham, Tom Yam Fried Rice with Assorted Seafood, Steamed Sea Bass Fillet, Mango Sticky Rice with Coconut Ice Cream and more.
Hailing from Thailand, Jan Ruangnukulkit has been at the helm of celebrated Thai restaurants, one of which even took a Michelin Star and a coveted spot in "The World's 50 Best Restaurants." Now, at Saffron, Chef Jan has found the perfect platform to showcase her expertise of modern Thai cuisine, backed by a talented team whose impressive résumés include stints at some of Asia's best-known Michelin-starred restaurants. Situated on the 31st floor of Banyan Tree Macau, Saffron also offers guests breathtaking panoramic views of Cotai, and an elegant, serene and spacious interior.
Saffron is open for Happy Hour 5pm – 9pm, Wednesday to Saturday, and for dinner 6pm – 10.30pm, Wednesday to Monday (closed Tuesday). To make a reservation, call +853 8883 6061.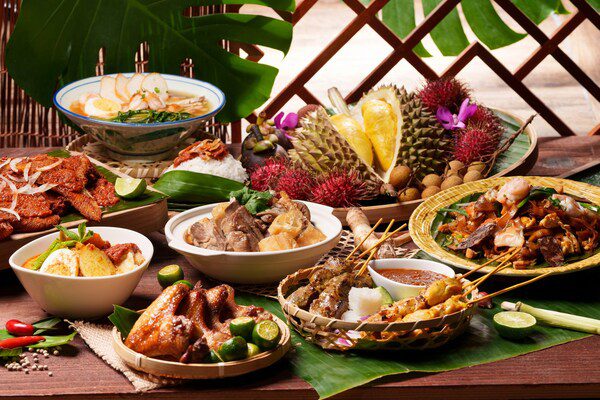 The Taste of French Summertime at Café De Paris Monte-Carlo
Exuding the style and elegance of La Belle Époque while capturing the warm hospitality of neighborhood cafes around the world, Café de Paris Monte-Carlo at Galaxy Macau perfectly captures the spirit of its namesake, the original world-famous brasserie in Monaco. And the much-loved eatery is celebrating the sunshine season with the launch of its new Summer Festival Menu, which is available from now till August 31, 2023.
Inspired by the Fantasia Garden in East Square, this limited-time menu is a celebration of classic French flavors, and features premium seasonal ingredients such as green asparagus, summer truffle, succulent halibut, and tender wagyu oyster blades. Those with a sweet tooth, meanwhile, can look forward to savoring the ultimate chocolate indulgence: Devil's Food Cake.
The Summer Festival Menu at Café De Paris Monte-Carlo is priced from MOP 388 per person. To make a reservation, please call +853 8883 2221.
Relish the Luxurious Flavors of Hokkaido Sea Urchin at Nagomi
Renowned for its unique buttery sweetness and creamy texture, Hokkaido's famed "bafun uni" sea urchin is highly prized in Japan and beyond. This summer, Nagomi at Hotel Okura Macau invites guests to savor this indulgent delicacy with its limited-time Uni Don Set promotion. Sure to delight the palate of even the most discerning diners are two exquisite sets: the Uni Ikura Don Set (MOP 588), which elevates the sea urchin's distinctive umami taste to new heights by combining it with soy-sauce-marinated salmon roe "ikura", and the Toro Uni Don Set (MOP 498), which pairs the bafun uni with luscious fatty tuna belly "chu-toro". Both sets showcase the seafood duo on a bed of fluffy Japanese rice, served with clam miso soup, cake, drink and more. The Uni Don Set promotion is available daily from noon – 8pm until August 31, 2023 with limited quantity, and ICBC Galaxy Macau Credit Card holders can enjoy up to 20% discount. For enquiries and reservations, please call +853 8883 5116.
Our Famous Malaysian Food Festival Returns with a Bang!
One of Galaxy Macau's best-loved events is back after a three-year hiatus as the Malaysian Food Festival returns for its 9th edition from July 20-30, 2023. Celebrating the exotic and eclectic flavors of Malaysia, the festival will transform Oasis at Galaxy Hotel™ into a vibrant night market serving up a fantastic feast for the senses.
Numbers of renowned chefs from Malaysia will be on hand to showcase their culinary skills, while there will be eight live stations cooking up authentic delicacies such as Grilled Stingray Fish, Malaysian Char Siu, Fried Shrimp with Butter and Oatmeal, and many more. There will also be a selection of signature Malaysian street food to tantalize guests' taste buds, such as Oyster Omelet, Char Kway Teow, Laksa, Hokkien Prawn Noodle Soup, Satay and Nasi Lemak.
For lovers of Malaysia's national fruit, however, the star attraction is sure to be the durian platters and desserts, with more than six types of top-quality durian hand-picked by our Durian Master from his renowned farm in Malaysia. Guests can also purchase fresh durians to enjoy at home, while there will also be free-flow tropical fruits and special summer drinks to help guests keep cool and refreshed as they explore Malaysia's diverse and colorful food culture with friends and family.
The 9th Malaysian Food Festival takes place from 6pm – 10pm daily from July 20-30, and tickets are priced MOP 628 for adults (including a platter of six premium durians) and MOP 314 for children aged 3-11 years old (with free entry for children under 3 years old). For enquiries and reservations, call +853 8883 2221.