The Resort Villa Rayong, an all-inclusive, eco-friendly, 8-villa private haven
that perfectly mixes exclusivity, natural beauty and a rare level of consciousness, has recently
won, for the third consecutive year, the prestigious 2020 World Luxury Hotel Awards, in the 'Luxury Private Pool Villa' category – a regional winner in Southeast Asia.
Previously, the resort was also the winner of 'Luxury Eco/Green Villa' category in the 2019 World Luxury Hotel Awards; and the winner of 'Southeast Asia's Best Private Villa' & 'World's Best Private Villa' category in the 2018 World Boutique Hotel Awards respectively.
"The Resort Villa, open to the public since 2018, may be one of the most luxurious and private properties you can find in Thailand, but what truly sets it apart is the resort staff's passion and the collective principles in being environmentally aware and helping the wonderful natural environment that surrounds it," said Mr. Benjamin Tellenbach, the resort's General Manager.  "And now with the recent re-emerging of COVID-19 pandemic; and Rayong now classifed as a red zone, we have stepped up our already strict and effective preventive measures to extend an absolutely safe and hygienic resort to those discerning guests who are seeking a private getaway with their extended family members or a close knit group of friends with whom to enjoy quality time together; and only less than two hours drive from Bangkok."
Covering a total of 14,000 square metres, the Resort Villa is situated in a secluded hideaway at the eastern coast of the Gulf of Thailand, in a non-commercial region of Rayong, and a 5-minute walk from the beach.  Its neighbour is a small fishing village of Lam Mae Phim.   Its 8 individual villas, all interconnected by 1,000 square-metres of salt water infinity pools with built-in fiber optic lights, is only available to a single group of up to 18 guests to ensure utter exclusivity and privacy.
In addition to an indoor and outdoor cinemas, cable and satellite TV, games room, and a fully-equipped gym, the resort also offers a full-service spa – the Serenity Spa – with treatments ranging from traditional Thai and hot-stone massage to deluxe facials and manicures.
The unique feature of the resort is its dramatic 15-metre/ 80-cubic metre aquarium with over 800 fish of 50 different species in which guests can swim alongside.
On the culinary side, head chefs Laurent Renaud and Stephane Smargiassi are on hand to create a fine-dining experience with Thai, Japanese, French and Moroccan cuisines.  The resort offers a total of 11 dining areas, 4 different bars including a rooftop bar, a custom pizza oven and 3 separate kitchens.  Special-themed events are often organised by the staff such as Thai Night with traditional dinner and dance, Italian Night with dinner and movie, and Moroccan Night with DJ and belly dancing.  Beach barbecues, formal dinners on the viewing deck with a jazz band as well as wedding parties or private gatherings to celebrate special occasions for up to 350 guests can be staged on the premises.
The Resort Villa's extensive wine cellar houses a fine collection including Pinot Noir, Sauvignon Blanc from New Zealand and a large selection of imported Italian wines.
Guests who feel the need for more adrenaline-driven activities can enjoy a range of aquatic sports such as jet surfing, fly boarding, and water skiing with a PADI-certified staff.  Island-hopping around the Gulf of Thailand is offered on any one of the resort's four boats, which include a super-speed 40-ft RIB or rigid inflatable boat and a 60-ft yacht.
One of the most commendable things about the Resort Villa, however, is its efforts in continually striving to be environmentally aware and preserve the wonderful nature that surrounds it.  More than US$250,000 has been invested in the state-of-the-art 206 solar system which provides all the energy required to run the 14,000 square-metre property.
The resort's 50-metre by 50-metre farm, growing fruit, vegetables, herbs and fresh eggs for its kitchens, also relies on the solar-power irrigation and hydroponics.  A water filtration system for alkaline purified water has also been installed at the resort to reduce the usage of plastic water bottles in favour of refillable glass bottles.
To preserve the underwater ecosystem, the Resort Villa has invested in an underwater drill to install anchoring buoys 3 meters deep into the seabed for its own 60-foot motor yacht as well as for other local fisherman and dive boats so that anchors are no longer needed to be dropped into the water and destroy coral reefs in the process.
Other social activities instigated by the resort include the regular beach clean ups and a dog-neutering campaign which helped educate the locals and control the dog population in the area.
"As travels begin to return again, the Resort Villa hopes to have the trusts and confidence of our guests to choose the resort among their first destinations and return for a luxurious and concern-free holiday with friends and family."  said General Manager Benjamin Tellenbach.
"The Resort Villa has in the past been graced by the likes of Hollywood stars, royalties, and international business figures.  We now look forward to welcoming guests from within Thailand as well as from around the region hopefully in the months to come," said Khun Benjamin in conclusion.
For further information on the Resort Villa Rayong, please check out www.theresortvilla.com or call Khun Joy/Natnisha, tel.  090 910 7644 or email:  natnisha.yotakaew@theresortvilla.com for any inquiries or bookings.
Measures implemented for the highest safety and hygiene at the Resort Villa Rayong
The Resort Villa is proud to announce it has been a COVID-free zone since day one. The resort's ultra-private and remote location, far away from any commercial structures and activities, has contributed greatly to such results.  In light of the recent resurgence of COVID-19 in many parts of Thailand, the resort has continued to implement certain measures to ensure the health and safe environment for both its guests and staff.  Highly effective disinfectants and ozonised water have been used to sanitise the entire premises both indoors and outdoors.  The gyms, sauna and jacuzzis have undergone a disinfecting process after each usage.  All bedrooms and common areas are equipped with hydro-alcohol hand wash gels and the air-conditioning system has been fully sanitised throughout the resort.  All linens including bedsheets and towels are washed in high temperatures with environmentally friendly bleach.  The entire staff including chefs are required to wear masks, safety goggles and full sanitary gowns and social distancing is to be observed among the staff themselves as well as in the presence of guests.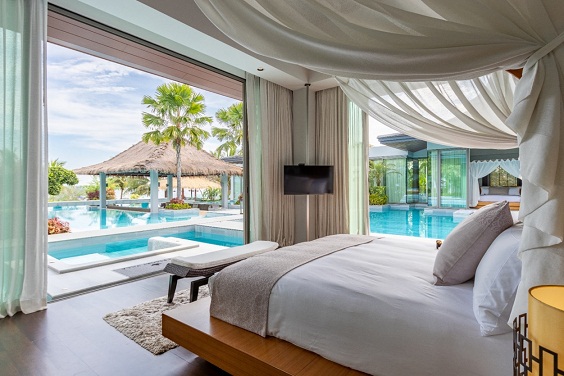 [pro_ad_display_adzone id="915575"]