The latest revolution in men's skincare, Suntory Wellness (Thailand) Co., Ltd., a leading company of health and beauty products from Japan, launched its new VARON Intensive in One Serum in Thailand. The popular skincare from Japan is designed exclusively for gentlemen skin, with a deep understanding of men's unique skin problems that require different care than those of women. The new VARON Intensive in One Serum employs the proprietary WOW (Water-in-Oil-in-Water) technology, exclusive to Suntory Wellness, that combines three essential skincare steps, lotion, serum, and cream in one synergistic single product. Hence, it effectively nourishes the skin through its unique 'Open, Penetrate, Lock' actions, for improved skin quality that is visible in just 10 days1.
Um Amarin Nitibhon and Byron Bishop, user representatives for 10 Days Challenge campaign
At the event, Suntory Wellness also launched its 10 Days Challenge Lucky Draw Japan Tour campaign, which was joined by leading gentlemen from the Thai entertainment industry, including 'Um' Amarin Nitibhon, Byron Bishop and 'Chane' Tawatson Plengsiriwat, who represented the first group of Thai gentlemen to try the VARON Intensive in One Serum. The campaign was also joined by 17 other real-life user representatives, aged between 40-70, who tried the VARON Intensive in One Serum for their facial care, resulting in smoother, softer, more radiant skin in just 10 days1.
Mr. Ichiro Ara, General Manager, Suntory Wellness Asia Pacific
Mr. Ichiro Ara, General Manager, Suntory Wellness Asia Pacific, said "We are extremely excited to launch the first Suntory Wellness skincare product for men to the Thai market. VARON is a popular skincare product from Japan that is widely trusted as the leading Premium Skincare brand for Men. At Suntory, we understand the unique skin concerns for men that is different from those of women. Hence, we developed VARON all-in-one skincare product for the busy modern men, that is convenient and easy to use, with visible efficacy just in 10 days. With this new product, we aim to support Thai gentlemen to reclaim their confidence and enhance their image with better looking skin."
To reinforce better skin and enhanced confidence for Thai men, VARON is inviting everyone to join its 10 Days Challenge Lucky Draw Japan Tour to experience better skin in just 10 days1. Anyone who is interested can participate in the 10 Days Challenge Lucky Draw Japan Tour from now until 31 July 2023 at www.varon10dayschallenge.brandstrynow.com. Participants will be eligible to win many bonus prizes, along with a chance to win 3 special Grand Prizes. A 10-day trip to Japan, including a tour of 3 famous cities: Nara-Kyoto-Osaka. Each prize is worth a total of THB 300,000 for two persons.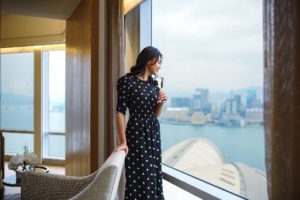 VARON Intensive in One Serum is manufactured in Japan and created specifically for men facial skincare. Formulated from Suntory's exclusive patented ingredients, namely, Suntory's original whisky barrel wood extract made from Spanish/English oakwood used to mature whisky, with antioxidant, anti-inflammatory and brightening properties. Other than that, VARON also possesses Suntory's original oolong tea extract, that prevents oxidation. The serum also consists of other useful ingredients that is beneficial to the skin, such as Acetyl Hexapeptide-8 that helps to slow down the formation of wrinkles and promotes strong, firm, and elastic skin. Added, Inositol helps to suppress sebum secretion in sebum-rich areas around the T-Zone, as well as to stimulate sebum secretion in the U-Zone, to reduce dryness and improve facial lustre. Last but not least, Squalane, as an emollient is used to help strengthen the natural skin barrier and retain skin moisture, helping to soften dry and rough skin to improve its texture and overall appearance.
In addition, VARON employs the proprietary emulsification technology or WOW (Water-in-Oil-in-Water) invented by Suntory Wellness's Research and Development team, where water is encased in oil and again encased in water. This unique molecular structure enables VARON to fully nourish the skin through its 'Open, Penetrate, Lock' actions. The water texture lotion opens the skin to replenish and moisture, followed by the water texture serum that penetrates deeply into the skin layer, and finally the oil texture cream locks them in the skin for a well moisturised appearance. VARON addresses 4 core skin problems for men including: 1. Reduce the appearance of wrinkles and sagging; 2. Reduce dark spots and dullness; 3. Promotes firm and smooth skin; and 4. Replenishes and locks in moisture for the skin.
Um Amarin Nitibhon, Byron Bishop, and real-life user representatives for 10 Days Challenge campaign
The new VARON products are available in three unique scents, each with their distinctive charms. The Original scent is a woody cotton scent, that exudes a soft and fresh tone, representing the young at heart spirit. The Classic scent is a Fougère fragrance, combining musk, fern, lavender and oakmoss, with a unique intensity and identity. The Fresh is a citrus floral scent, that combines freshness, which is further enhanced with the light sweetness of Blue Rose Applause, exclusive from Suntory. VARON is available in 2 sizes: Size 120 ml (THB 2,990) and Size 20 ml (THB 790).