Cigna Insurance Thailand is introducing our new locally compliant healthcare proposition, Cigna Global Health Thailand, specifically designed for individual customers and families residing in Thailand.  Cigna Global Health Thailand is available to expatriates, as well as Thai local nationals residing in Thailand. All plans include comprehensive core inpatient and daypatient medical treatment with coverage up to a maximum of 150 million baht, subject to plan selection. Our plans are flexible with three levels of coverage, three areas of coverage, five optional modules and multiple deductible and cost share options to choose from.
The launch of our Cigna Global Health Thailand individual plans follows the success of our corporate group health insurance. Its introduction will give increased flexibility to those needing different options to choose from, as well as the opportunity to extend health insurance coverage to family members.
Teeravuth Suthanaseriporn, Chief Executive Officer at Cigna Insurance Plc., said: "We understand that no customers are alike, and in a dynamic world we must offer health insurance products that are tailored to individual needs. We have designed these plans based on feedback from customers and using insights into how they need their health insurance to support their lives. We believe this plan is a great choice for expatriates and Thai local nationals, as its features go beyond traditional healthcare plans to help address whole-person health and drive better health outcomes."
When choosing an individual Cigna Global Health Thailand plan, customers can build a flexible, modular plan that is tailored to their needs, choosing from three geographical areas of coverage – Asia only (excluding China, Hong Kong, and Singapore), worldwide excluding USA and worldwide; three levels of cover – Silver Health, Gold Health and Platinum Health; and a choice of deductible and cost share options to suit individual budgets.
Each plan can be customised to individual needs with optional modules including: Outpatient Medical Treatment, Medical Evacuation and Repatriation, Health and Wellbeing, Vision and Dental, and Mother and Baby Care. Also, as part of the core cover, we offer financial compensation in the event of an accidental death or total permanent disability as a result of an accident.
Customers can also access dedicated apps to manage their health and wellbeing. The interactive Cigna Wellbeing™ app is available for every plan. It can be used for Global Telehealth consultations with medical practitioners and provides tools to help manage and track your health. Gold Health and Platinum Health plan customers can access our Safe Travel by Cigna app, which provides helpful travel advice, real-time alerts, and news for specific travel destinations. The app also uses a SOS tracking system to turn mobile phones into a personal safety device.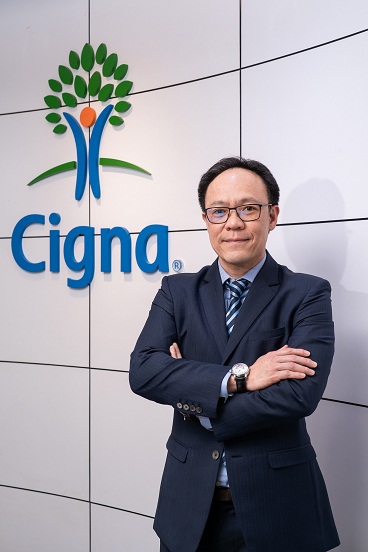 All Cigna Global Health Thailand customers also have access to our Clinical Case Management programme, where they can receive personalised medical advice and support from our team of dedicated doctors and nurses if they are diagnosed with a complex or serious medical condition.
In addition, customers will also have access to easy online tools to manage their policy with our secure online Customer Area, where they can submit and track claims, search for local medical providers and contact us via live chat, our messaging service or by arranging a call back.
The Cigna Global Health Thailand plan will be available from October 2020.  You can get a free quotation here: https://www.cigna.co.th/global-health-insurance