Marriott International recently held its 2022 Asia Pacific (excluding Greater China) General Managers Summit in Bangkok attended by more than 500 General Managers from across the region. With the theme 'Shape Tomorrow', the summit, held for the first time since 2019, underscores Marriott's commitment to promote Thailand as a preferred travel destination globally.
"We are thrilled to have held our recent General Managers summit for the first time in almost three years," highlighted Rajeev Menon, President, Marriott International, Asia Pacific (excluding Greater China) "Thailand is one of the most dynamic countries in the region where our portfolio spans wide – offering different experiences for every travel purpose. Organizing the General Managers' summit in the country underscores our confidence and optimism for the future of travel in the country and the region; and more importantly, signifies the return of travel."
The three-day agenda-packed summit kicked off with remarks from Rajeev Menon, where he outlined the company's strategic roadmap for achieving the company's vision in the region. The session was followed by remarks from Anthony Capuano, Marriott International's Chief Executive Officer who emphasized the company's purpose of connecting people through the power of travel, and how Marriott would continue to grow through global headwinds. David Marriott, Chairman of the Board of Marriott International shared the importance of Marriott's 'people-first' culture, and how that has and will continue to be a key competitive advantage.
The General Manager's conference offered opportunities for General Managers to reconnect, share and learn insights on brand, technology, revenue management, sales, operations, F&B and more; and as important, exchange ideas with their peers. In addition to discussing strategic priorities, the conference was a platform to recognize and celebrate the work of its General Managers through the past two challenging years.
As part of Marriott's leadership visit in Thailand, Marriott's senior leadership team met with the Minister of Tourism and Sports for Thailand. During the visit, Marriott highlighted the shared vision of promoting Thailand as a preferred travel destination through a sustainability-led approach. Additionally, Marriott underscored its Marriott's commitments to the Thai economy, the support for its associates and communities, and efforts to respond to emerging business and leisure travel trends.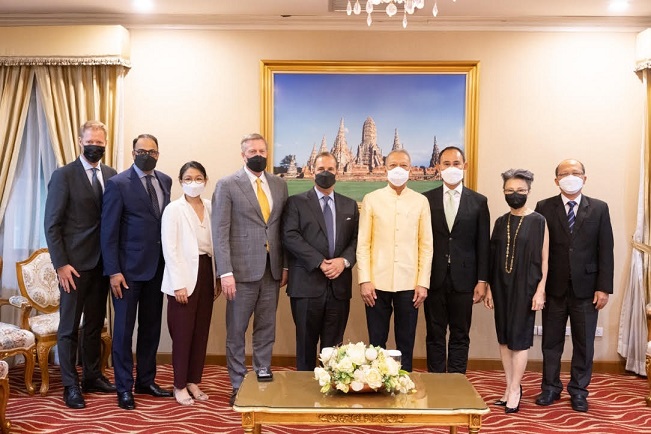 Marriott International's Executives including Anthony Capuano, Marriott International's Chief Executive Officer (Middle), Craig S Smith, Group President, International Division, Marriott International (4th from left), Rajeev Menon, President, Asia Pacific (Exc. Greater China), Marriott International (2nd from left), and Jakob Helgen, Area Vice President, Thailand, Vietnam, Cambodia, Marriott International (Left) met with H.E. Pipat Ratchakitprakarn, Minister of Tourism and Sports (4th from right) and his advisors to discuss tourism outlook for Thailand