Pimalai Resort & Spa, the five-star sanctuary on the southern Thai island of Koh Lanta, has always been a natural bridge between the land and the ocean. Ever since this spectacular resort was first woven into the coastal landscape 21 years ago, it has strived to preserve the pristine environment and help native species to flourish. Now, it is reinforcing its commitment to conservation by helping to release endangered sea turtles and millions of crabs back into the Andaman Sea.
In an important initiative, the resort's team came together with officials from the government of Krabi province, Koh Lanta district, the Royal Thai Navy and the local business community to support three indigenous species. Fifty sea turtles, which had been cared for by the Royal Thai Navy's Turtle Conservation Center in Phang Nga province, were released into the ocean. These majestic creatures, which can grow over a metre long, were set free at Kantiang Bay, the 900-metre-long stretch of sand lapped by the crystal clear waters of the Andaman Sea. As sea turtles only return to safe and clean beaches to lay their eggs, the decision of use Pimalai's shoreline is a vote of confidence in the resort.
Pimalai also helped to release 2,000 land hermit crabs into the wild. These adaptive crustaceans live on land but need access to the ocean to breed, so the resort's unspoiled coast is their ideal habitat. Famously, hermit crabs change shells as they grow and often select discarded shells from other species. They are also natural beach cleaners and help to accelerate the decomposition process, which makes them wonderful housekeepers for Kantiang Bay!
Finally, the resort came together with the Thung Talae Forest Royal Development Study and Crab Conservation Center, a local organisation in Koh Lanta, to release more than 10 million flower crabs. Also known as blue swimmer crabs, this species is a popular delicacy in Thailand and many native fishing communities make a living from catching and selling them at markets. By replenishing the stock of crabs, Pimalai is helping to support village economies while also ensuring the sustainable survival of the species for generations to come.
"At Pimalai, we are fully committed to preserving the environment and letting nature thrive. Tragically, almost every species of sea turtle is now classed as endangered and the degradation of coastlines is threatening crab populations. The fact that the local authorities selected our beach as the perfect place to release these wonderful creatures reflects the strength and effectiveness of our conservation efforts. Sea turtles will only return to peaceful and unpolluted beaches, so our commitment to keeping Kantiang Bay unspoiled – including regular beach cleaning and having no motorised water sports – is delivering benefits for the entire ecosystem," said Charintip Tiyaphorn, Pimalai's Owner Representative.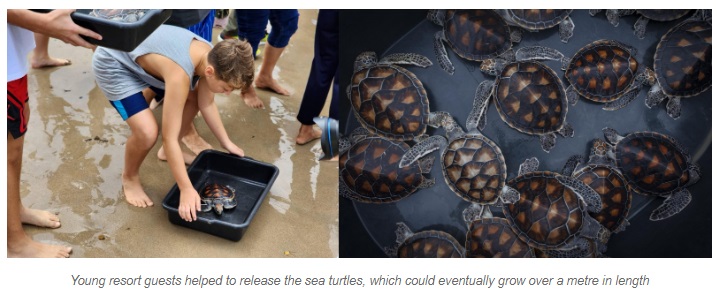 With just 121 stylish rooms, spacious suites and spectacular pool villas spread across an area the size of 75 football fields, surrounded by native plants such as banyan trees, coconut palms, jasmine bushes, bird of paradise flowers and even century-old, 80-metre-tall ton yang trees, Pimalai feels like a private nature reserve. Wildlife abounds with species such as monitor lizards, eagles and hornbills all visible in the area, and marine creatures such as dolphins inhabiting in the azure waters offshore. This makes it ideal for guests seeking eco-sensitive escapes that allow them to reconnect with the Earth.
Travellers can head out and explore the wonders of Mu Ko Lanta National Park, above or beneath the waves, or take part in a wide range of low-impact activities such as kayaking, cycling, jogging, jungle trekking, Thai cooking classes, muay Thai boxing lessons, yoga sessions, spa therapies and more. Or they can simply dine at sensational seafront restaurants or take an invigorating dip in the two infinity pools, which appear suspended in the forest canopy, overlooking the ocean.
It is little wonder that Pimalai forms part of the Small Luxury Hotels of the World's (SLH) Considerate Collection, an exclusive community of socially responsible and eco-conscious five-star hotels. It was also recently named as the best hotel in Thailand in the Tripadvisor Travelers' Choice "Best of the Best Awards" for 2022.
For more information about Pimalai Resort & Spa and to book your eco-friendly escape in paradise, please email reservation@pimalai.com, call +66 (0) 2 320 5500 or visit pimalai.com.