Regarded as one of the grand hotels of the East, Centara Grand Beach Resort & Villas Hua Hin prepares to reopen its doors this July, promising all travellers unparalleled experiences in luxury travel with the latest offers guaranteed 'best- ever' of all time.
This July, Centara Grand Beach Resort & Villas Hua Hin will welcome guests once again for an excellent first-class experience in the heart of Hua Hin. Set on July 24th, 2020, the re-opening of this iconic landmark aims at reclaiming the status as hua hin's best hotel with a long heritage, while tempting travellers with not only the best-ever offers for accommodations, but also with even greater Centara hospitality and care everyone knows and trusts.
Look forward to every luxury and comfort in one of the hotel fascinating colonial-inspired rooms and suites with featured rates from the 'Stronger Together' offer starting from Baht 2,650++ per night.
Deluxe Room: Colonial influences meet modern-day comforts and soothing views are to be had of the swimming pools or the gardens with the Deluxe rooms, each designed to evoke the spirit of the 1920s. The Deluxe rooms offer 37 square metres of living space, including a furnished balcony and interiors decorated in cream hues and accentuated by fine wood, high ceilings and rich fabrics. Making a retreat for couples and families is the choice of a king-size bed or twin beds, a work desk, and bathroom with shower and bathtub in most rooms.
Deluxe Suite: Graciously styled, with the warm hues of wooden flooring, and elegant furnishings and drapery evoking an earlier and more leisurely period, the Deluxe Suites boast the living areas of 72 square metres, including a balcony with garden view and partial ocean view, an airy bedroom and a tastefully decorated living room, perfect for couples and families of up to 2 adults and 2 children.
Duplex Suite: The Duplex Suites enjoy abundant daylight from two floors with floor-to-ceiling windows and present a colonial feel. Each Duplex Suite features separate sleeping and living areas elegantly decorated with cream and white tones, and period-style furniture, and one or two bedrooms with a plush king-size bed. The balcony and large picture windows highlight the garden and pool views, adding an air of spaciousness.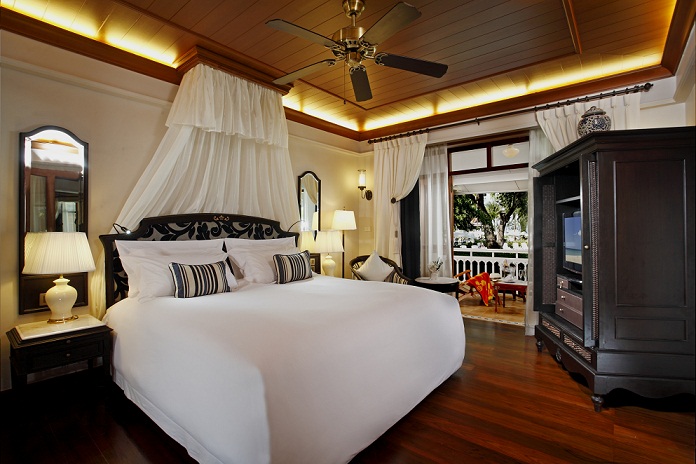 For those looking to unwind and indulge in a more intimate style, the hotel's private villas are guaranteed to impress. Gracefully designed to a colonial décor, each of the 42 villas is a tranquil oasis surrounded by lush gardens that enhance the feeling of seclusion. Travellers can take advantage of the latest 'Villa Escape' offer that features an overnight stay at only Baht 5,370++.
Deluxe Pool Villa: Beautifully designed to a colonial décor that blends soft colours, and wood accents, each
of the 16 Deluxe Pool Villas is a tranquil oasis with living areas of 76 square, offering the choice of a king-size bed or twin beds. Surrounded by lush gardens that enhance the feeling of seclusion, your Deluxe Pool Villa has a spacious terrace with a plunge pool, perfect for cool dips and to unplug in grand style.
Premium Deluxe Pool Villa: Colonial indulgence starts with relaxing on your own terrace, enjoying the
comfort of an outdoor sala and the luxury of having your own plunge pool. The Premium Deluxe Pool Villas are elegant retreats, each with living areas spanning over 120 square metres, with the separate living room with two sofa beds and the bedroom with king-size bed that accommodates up to 2 adults and 2 children.
Further elevating the luxury experience is a complimentary, daily international breakfast from Railway restaurant and exclusive privileges and lounge access to The Club, all free-of-charge while greater confidence on every journey at the resort is ensured by Centara Complete Care. The enhanced health, hygiene and safety comprehensive 12-pronged programme, devised in partnership with ECOLAB, the global leader in hygiene technologies, and SGS, the world's leading inspection and verification specialists, allows guests to relax in style with total peace of mind, knowing that Centara Grand Beach Resort & Villas Hua Hin has enhance health and hygiene practices on every element of the visitor experience. The hotel looks forward to welcoming you back with the same Centara hospitality and care you know and trust, supported with the highest standards of health and wellbeing. If you would like to learn more about our programme, a more comprehensive outline can be found on Centara Hotels & Resorts' website.
First opened its doors to welcome guests in the early 1920s, Centara Grand Beach Resort & Villas Hua Hin is regarded as one of the grand hotels of the East, with a wide expanse of gardens perfect for strolling and enjoying the sea breezes. With its perfect location in the town centre ideal for exploring and shopping, the hotel is a prime destination for couples and families. Dining is another highlight and an experience that evokes memories of Hua Hin's past encounter with royalty and foreign dignitaries. The extensive range of facilities includes two putting greens, tennis courts, a snooker room, badminton, table tennis, fitness centre and luxurious spa.
For more information or reservations, please call +66 (0) 3251 2021.