This International Women's Day, Trip.com is partnering with local leading lifestyle leisure and attractions operator Mount Faber Leisure Group and HOME (Humanitarian Organization for Migration Economics) to support female migrant domestic workers (MDWs) with Cable Car Sky Passes, allowing them to enjoy panoramic views onboard the iconic Singapore Cable Car rides on their rest days. Trip.com and Mount Faber Leisure Group are donating 200 Cable Car Sky Pass (Round Trip) tickets to HOME beneficiaries.
The partnership is a continuation of Trip.com's Pay It Forward campaign, which was first launched in 2020 to support local tourism businesses, charities and social service agencies. After 34 successful programmes, Trip.com remains committed to providing meaningful travel and lifestyle experiences for the less privileged members of the community.
From 1 March to 30 April 2022, the public will be able to donate the Cable Car Sky Pass (Round Trip) – Mount Faber Line & Sentosa Line in support of this cause. The total number of tickets secured at the end of the campaign will be distributed by HOME, an organisation dedicated to the welfare, empowerment, and advocacy of migrant domestic workers (MDWs).
At just SGD 24.50 per ticket, the public may purchase tickets for HOME recipients via the Trip.com website at
https://sg.trip.com/things-to-do/detail/42525298/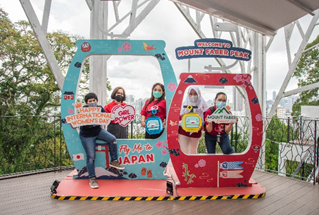 L-R: Istry Yanti – Beneficiary H.O.ME, Deshi Gill – Executive Director H.O.M.E, Jo Ann A. Dumlao – Beneficiary H.O.M.E, Ru Yi – General Manager Trip.com Singapore, Tracy Lui – Senior Assistant Director, Marketing & Communications, Mount Faber Leisure Group "Over the years, Trip.com Group has, through its business, partnerships and community-focused programmes, uplifted, encouraged and supported women around the world. International Women's Day not only allows us to celebrate the achievements of women, but also provides a platform for us to raise awareness of different groups of underprivileged women in society, and rally our stakeholders to support them." Ms Ru Yi, Regional General Manager at Trip.com shares, "We are extremely pleased to collaborate with Mount Faber Leisure Group and HOME on this campaign to secure tickets for these deserving, hardworking women to enjoy the Singapore Cable Car, an iconic attraction with inspiring views. These women are the unsung heroes who play an important role in supporting Singapore families. We've seen and deeply appreciate the amazing generosity and care that Singaporeans have shown for those in need in previous iterations of Trip.com's Pay It Forward campaign by donating their SingapoRediscovers Vouchers and we humbly seek their continued generosity for this initiative. Going forward, Trip.com will continue to identify ways to support the less privileged members of our society."
Ms Tracy Lui, Senior Assistant Director, Marketing & Communications at Mount Faber Leisure Group says, "It deeply
warms our hearts to play a part in raising awareness of and contributing to beneficiaries' lives in such a direct and
meaningful way. With sweeping views of the HarbourFront and Sentosa experienced onboard the Singapore Cable Car, we look forward to positively impacting the beneficiaries as they create beautiful memories while visiting the iconic attraction. Mount Faber Leisure Group believes that amidst the challenging conditions of COVID-19 over the last two years, the MDW community will greatly benefit from the uplifting experience of a delightful escape while visiting Mount Faber Peak and Sentosa with this opportunity. We hope that by setting an example and taking the first step to donate tickets, Singaporeans will be moved to follow in kind and open up their hearts to support the beneficiaries through this campaign."
"HOME is thankful that Trip.com and Mount Faber Leisure Group have recognised the contributions and needs of our
migrant domestic worker community," says Ms Deshi Gill, Executive Director for HOME. "As a non-profit organization, we rely a lot on the support of donors and partners to care for the welfare of migrant domestic workers in Singapore, and these donations are important in furthering our mission of education and advocacy in the long term. This kindness and generosity will certainly bring good cheer to our migrant sisters, and highlight that like all of us, they require fun and rest as well."
To start the initiative, Mount Faber Leisure Group and Trip.com welcomed the first five H.O.M.E beneficiaries on 27
February. On the Singapore Cable Car experience, Jo Ann A. Dumlao, beneficiary, expressed, "Just wow! I have been here before (4 years back), but it took years for me to save a penny for my ticket, and now, it's free!! Having this moment of joy and laughter with my fellow beneficiaries is what we really need after working hard six days a week. I am overwhelmed by this very generous support from Mount Faber Leisure Group, Trip.com and HOME. This one day break with breathtaking views and beautiful surroundings, our Sunday could not have been more perfect! We really hope that people contribute to this initiative so that our fellow friends can also enjoy their day off with this lovely experience."
Delia Comedia, beneficiary, shared, "Look at that, after 28 years of working here in Singapore, here I am at this very
moment looking at the stunning views of Mount Faber Peak, Harbourfront and Sentosa. In all my years in Singapore, this is the first time for me in the iconic Singapore cable car; this memory will stay with me for a lifetime. Thank you so much, Mount Faber Leisure Group, Trip.com and HOME, for giving my fellow beneficiaries and me this exciting experience!"