Just a short journey south of Bangkok airport, situated on the secluded golden sands of the Gulf of Thailand, Aleenta Hua Hin Resort & Spa is a laid-back coastal retreat comprising 25 beachfront residences with far-reaching vistas across Pak Nam Pran Bay.
Couples can delight in total privacy with bare-foot living style beachfront suites and villas, with alfresco bathrooms and modern amenities amidst the spectacular tropical settings. Days can be spent indulging at the Aleenta Spa, followed by long languid lunches or under-the-stars dinners sampling the very best of modern Thai cuisine, infused with healing herbs and spices or partaking in the property's extensive selection of wellness sessions. Spoil your other half this Valentine's Day, nourishing the mind, body and soul with the Cheek to Cheek package, including:
2 nights stay with the room set-up for the occasion
Daily Gourmet Breakfast including 1 time floating or in-room breakfast
1 Hour Spa treatment per person per day at Aleenta Spa
1 time romantic pre-dinner drinks and romantic dinner for 2 on the beach
HOW: The Cheek to Cheek package at Aleenta Hua Hin Resort & Spa starts from $197 (currently approx. £162) based on 2 people per night, with a minimum of a two-night stay. For further information please visit www.aleenta.com/huahin.
MAKE A SWEET ESCAPE TO THE UNSPOILT SANDS OF THE ANDAMAN SEA WITH
ALEENTA PHUKET RESORT & SPA
Set on the untouched sands of the Andaman Sea and the pristine Natai Beach, just 25-minutes north from Phuket international airport, Aleenta Phuket Resort & Spa offers an intimate and exclusive hotel experience for lovers. Home to an infinity pool, a pristine private beach, extensive spa facilities, award-winning restaurant and Ayurah Wellness Centre offering immersive and regenerative retreats and activities including yoga, pilates and Muay Thai, guests of Aleenta Phuket Resort & Spa can mindfully reconnect with their partner and leave feeling stronger, calmer and more balanced, with a renewed sense of vitality and purpose. Couples celebrating love or simply looking for some rest and respite can book onto the resort's Romantic Getaway package, offering:
Three-night luxury accommodation
One-time romantic pre-dinner drinks
Romantic in-room set up with rose bouquet and a bottle of sparkling wine upon arrival
Daily gourmet breakfast at The Edge restaurant, or enjoy one-time breakfast served privately to your room or floating breakfast
One-hour Spa treatment per person per day
One-time romantic dinner for two on the beach
Round-trip airport transfer
HOW: The Romantic Getaway package at Aleenta Phuket Resort & Spa starts from $1,156 (currently approx. £950) based on a double occupancy for 3-night stay. For further information please visit www.aleenta.com/phuket/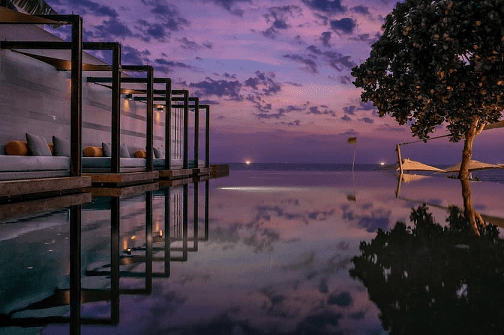 GET BACK TO BASICS WITH YOUR LOVED ONE AT 
DUNTON HOT SPRINGS
This Valentine's Day, couples can head to Dunton Hot Springs for the ultimate Alpine getaway. Nestled in the heart of Colorado's famed San Juan Mountains, just across the mountain from Tellurid, Dunton Hot Springs is an old mining town turned luxury, Relais & Chateaux resort known for its incredible and remote location, meticulously prepared cuisine made from seasonal and local ingredients, and its namesake natural hot springs. Offers 12 luxury log cabins and one luxury tent, each hand-built and lovingly restored, complete with magnificent views of the Mountains and surrounding meadows. An idyllic destination to disconnect from the outside world and reconnect with your loved one Dunton Hot Springs is the perfect romantic sanctuary. The property has also launched a Mountain Romance Add-On Package, which can be added to any cabin booking and includes:
Champagne and a sweet treat from the Chef upon arrival
Two Dunton Custom Massages (one per guest)
One seasonal half-day private guided activity for two
For a totally fairy-tale-like sojourn at Dunton Hot Springs, be sure to book into The Well House cabin – the only accommodation at the resort to be built around a small, on-demand hot spring – featuring a spacious en-suite stone bathtub with water sourced directly from the natural spring. What's more, there is also a private cold plunge pool to accompany the hot spring tub, ensuring this Valentine's Day getaway will be a trip to remember.
HOW: The Mountain Romance Add-On Package at Dunton Hot Springs starts from $1,225 (currently approx. £1,008) based on a 3-night minimum stay per night. Rates for the Well House Cabin at Dunton Hot Springs starts at $2,690 (currently approx. £2,211) based on two guests per night, including all meals and beverages (except for reserve lists), a 2.9% sales tax, and all service charges. For further information please visit www.duntondestinations.com/hot-springs
AN ENCHANTED ESCAPE FIT FOR ROYALTY:   
EFENDI HOTEL
Nestled in the picturesque and narrow lanes of Acre in Northern Israel, holding hundreds of years of history, Efendi Hotel is an enchanted boutique hotel housed in a meticulously restored Ottoman-era palace. Featuring frescos in honor of the new Orient Express train station, created under the supervision of the Israel Antiquities Authority and Artisans flown in from Italy for the restoration – the Efendi Hotel overlooks the ancient city walls of Acre and the magnificent Mediterranean Sea. Loved ones can book onto the property's ephemeral "Love Story Package", offering the opportunity to live like Sheiks and Sheikhas with luxurious spa treatments, nights in palatial-sized rooms, a 400-year-old Turkish bath, gourmet dining and intimate wine tastings taking place throughout the 4,000-year-old city of Acre. The Love Story Package, available to book for the entire month of February, includes:
One-, Two- or Three-nights stays in a Deluxe, Grand Deluxe, Royal or Presidential Suite at Efendi Hotel
Daily farm-to-table inspired breakfast for two in the Efendi Hotel dining room
Spa treatments for two, including Hammam session (30 minutes) or Deep Tissue massage (40 minutes)
Multi-course tasting dinner for two at the Uri Buri seafood restaurant
Wine tasting of boutique Israeli labels in the Efendi Hotel's Byzantine-era subterranean wine cellar
Daily sunset cocktails or wine atop the Efendi Hotel rooftop overlooking the Mediterranean Sea
HOW: The Love Story package at Efendi Hotel ranges between $568 and $910 (currently approx. between £467 and £748) per night per room based on double occupancy and date of reservation. For further information please visit www.efendi-hotel.co.il