After years of subdued celebrations, time to swap gathering around the living room Christmas tree or watching the New Year countdown with a hearty, elegant meal, a fun party or a staycation at the Mandarin Oriental. No matter the location, Mandarin Oriental has something special planned to being good tidings and cheer this yuletide season.
Mandarin Oriental, Taipei
It is the time of year to embrace the season's celebratory spirit and fill your heart with festive warmth at Mandarin Oriental, Taipei. Michelin recommended Bencotto Italian Restaurant offers Christmas lunch and dinner set menu during the festive season from 20 to 25 December 2022, with delicacies including Roasted Australian Wagyu beef striploin, Seared Hokkaido scallops and signature festive inspired handmade pasta to name but a few.
Or, pick-up a Christmas treat from the Mandarin Cake Shop — from gingerbread men, brioche wreaths, to sweet pastis topped with a snowman and snowflakes specially created by Executive Pastry Chef Kevin Chiu, priced from TWD 280 to TWD 3,680 each.
The Festive Celebration room package starts at TWD 13,000 and includes:
• Luxurious accommodation at one of the Deluxe Rooms
• Breakfast for two at Café Un Deux Trois
• One bottle of limited-edition Champagne Veuve Clicquot and ice bucket
• One set of Gingerbread DIY decorating kit
• An exclusive MOTPE Christmas ornament
Mandarin Oriental, Kuala Lumpur
Mandarin Oriental, Kuala Lumpur will collaborate with world-renowned Swiss luxury brand, Chopard, with "Chopard Christmas Afternoon Tea" sets available from November 25 onwards.
The Mandarin Grill will be hosting a six-course bespoke dinner by Chef Marco Caverni. Meanwhile, a "Grand Christmas Day Brunch" will be held at Mosaic featuring several key favourites such as carving stations, traditional Christmas dishes and a variety of beverages.
Or, celebrate Christmas with a splash at AQUA Restaurant and Bar, with a barbeque dinner party by the pool. The "Christmas Barbeque Party" will feature a smorgasbord of food and beverages specially selected for the festive season.
Mandarin Oriental, Barcelona
Mandarin Oriental, Barcelona will hold a Christmas Market from December 9 to 21, gathering local artisans and food purveyors at the hotel's Mimosa Garden. The hotel will organize different workshops for children such as cookies decoration classes, origami, and Christmas decoration.
And as Christmas is also a time for sharing, the hotel is collaborating with Fundación Soñar Despierto with a Wishing Tree where children living in shelters and difficult conditions write their wishes. Guests can also write their wishes and place these on the tree.
Mandarin Oriental, New York
Home to the famous Rockefeller Christmas Tree and winter villages, enjoy Christmas sparkle in the city that never sleeps with a specially-decorated suite at the Mandarin Oriental, New York.
Beginning December, guests can opt to have their suites decorated with holiday baubles and more festive treats for a truly spectacular staycation. Get into the Christmas spirit with carols sung by a choir at the hotel lobby from 5-6pm every Friday in December leading up to Christmas weekend.
Meanwhile, the Mandarin Oriental Lounge, will offer an afternoon Christmas tea set from 2-4pm from December 1 through 25; and Christmas menu specials on December 25.
Mandarin Oriental, Tokyo
Reserve slots now for the Christmas & Osechi Collection and the hottest New Year's Eve parties in Tokyo. This year, Mandarin Oriental, Tokyo has prepared five kinds of Christmas cakes and eight kinds of baked creations with the theme "Merry Christmas from around the world".
Usher in the New Year with "Osechi", including their limited number of "Premium Osechi" and "Spa Osechi".
On December 31, the hotel is hosting two New Year's Eve Countdown Parties to shake off the lull of yester-years. One party will have a "Modern Japan" theme and the other a "Glitz & Glamour Jazz Night".
At the Oriental Lounge, a dynamic dance performance set to modern Japanese music will get guests into a party vibe. The dancers will use traditional Japanese umbrellas fitted with LED lights. Guests will enjoy a free flow of premium Champagne, special cocktail drinks and snacks. For a special new year party feel, guests can upgrade to VIP plan which will include caviar; or a table by the window for arresting views of the Tokyo skyline.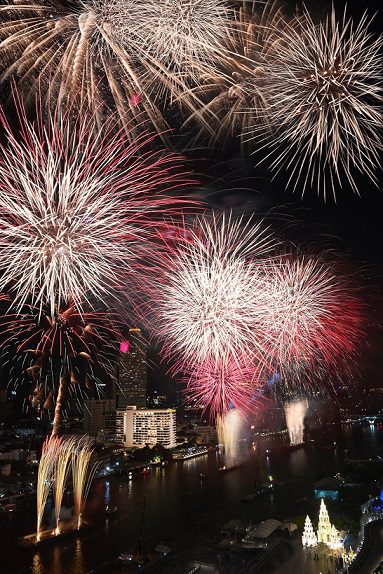 Mandarin Oriental, Bangkok
In Thailand, there is no better place to ring in the New Year than at the Mandarin Oriental, Bangkok. The hotel will host a Gala Buffet Dinner at the Riverside Terrace. Dine by the banks of the majestic Chao Phraya River, and be transported to a wonderland magically orchestrated by Mandarin Oriental, Bangkok. Begin the evening at 7.30 pm with welcome cocktails at The Authors' Lounge, followed by buffet dinner, then fantastic entertainment from The Sun Band, a fan favorite at Mandarin Oriental, Bangkok. This band has performed every New Year's Eve at La Grande Dame for almost two decades.
Dress in your finest black-tie attire and dance the night away to the music of The Sun Band and other featured artists. At midnight, ring in 2023 with the traditional countdown and a spectacular fireworks display, demonstrating why Mandarin Oriental, Bangkok, is the perfect riverside location to welcome the New Year.
Mandarin Oriental Jumeira, Dubai
Located along the famous Jumeirah Beach in Dubai, the Mandarin Oriental Jumeirah is an idyllic place to share special moments and create lasting memories with your loved ones. Savor a rich cup of hot chocolate or enjoy Afternoon Tea with a festive twist at the Noor Lounge.
Celebrate Christmas over Brunch at Netsu — taking a pick between its dramatic interiors or on the outdoor terrace overlooking the white-sand beach, and enjoy tantalising Warayaki-style grills, seasonal sashimi selections and signature maki rolls, complemented by a live band and the restaurant's vibrant atmosphere. You can also enjoy the most wonderful time of the year with a special festive brunch at Tasca on Christmas Day, accompanied by Portuguese wine and seasonal cocktails.
If you are seeking an ultimate venue for delightful festive family memories, The Bay is the best option. Watch as a flurry of festive dishes appear at The Bay's Christmas-inspired Brunch, with a lavish buffet offering a selection of sumptuous yuletide classics, festive surroundings, and Santa Claus spreading merry wishes for the kids and kids-at-heart.