Centara Hotels & Resorts, Thailand's leading hotel operator, understands that the beauty of the world lies in the diversity of its people. Everybody is different and travellers have an almost endless choice of attractions to spark their senses and ignite their imaginations. This is why Centara has created a diverse portfolio of hotels and resorts that cater to the needs of a wide range of guests and interests, from culture-hungry couples and fun-loving families to experience-seeking solo travellers and many more.
Underpinned by heartfelt Thai service and world-class facilities, Centara's extensive collection of hotels and resorts can help every guest create memories that last a lifetime.
Culture seeking in Osaka
Osaka is an historical city with a rich backstory and a unique personality, which makes it a haven for culture seekers. Having emerged as a small fishing village in the 5th Century, it flourished during the Edo period and has grown to become a cosmopolitan global metropolis. Travellers can discover Osaka's heritage at the dramatic Osaka Castle and elegant temples and shrines, such as Sumiyoshi Taisha and Shitennoji. The city's contemporary vibe comes alive in Namba, the high-energy entertainment district which is home to Dotonbori, the waterside dining street. For a truly immersive cultural experience, the National Bunraku Theatre showcases the ancient art of Japanese puppetry.
Centara Grand Hotel Osaka is a brand-new five-star hotel that puts travellers in the heart of the city's Namba district. Set in a gleaming 33-storey tower, the property features rooms and suites suitable for every guest, such as solo visitors, couples and families, plus an eclectic collection of restaurants, a fitness centre and SPA Cenvaree. At the end of a day of discovery, the alfresco rooftop lounge is the perfect place to sip sunset cocktails and listen to live DJs. Rates start from USD 62++/ night.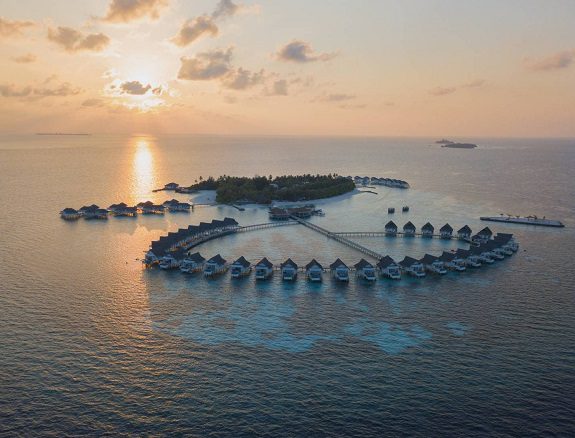 Underwater adventures in the Maldives
The Maldives is a dream destination for nature lovers, with vibrant underwater ecosystems that teem with exotic marine life. In the South Ari Atoll, guests can swim and snorkel in crystal-clear seas and come face-to-face with an amazing array of tropical fish. For more intrepid excursions, visitors can head out into the cerulean sea to enjoy close-up encounters with oceanic giants such as whale sharks, green sea turtles and manta rays. It is no wonder that Centara Grand Island Resort & Spa Maldives won second place in the "House Reefs" category in the Travel + Leisure Luxury Awards Asia Pacific 2023! PADI-certified dive courses are available for explorers as young as eight years old.
Centara Grand Island Resort & Spa Maldives, the five-star island paradise in the South Ari Atoll, celebrates the joy of sustainable travel and underwater exploration. A selection of beautiful beachfront and elegant overwater villas offer direct access to the lagoon, and all ages can swim, snorkel and enjoy world-class water sports throughout their stay. Six restaurants, bars and lounges provide the perfect settings to unwind and reflect on a day of adventure. Maldives rates start from USD 222++/ night.
Family fun in Dubai
Dubai is a dazzling destination that excites and delights in equal measure. With so many unparalleled attractions and a choice of thrilling theme parks, Dubai is a paradise for fun-seeking friends and families. Guests can fly through the sky on the world's longest zipline, the 170-metre-long XLine, which offers a bird's eye view of the city, and kids can bounce on JumpX, the planet's biggest bouncy castle! Branded theme parks include Legoland Resort Dubai, with over 40 child-friendly rides, Motiongate Dubai, a Hollywood-themed park, and Bollywood Park Dubai, which showcases the art of Indian movie-making. Alternatively, the azure waters of the Arabian Gulf set the stage for exhilarating water sports.
Centara Mirage Beach Resort Dubai, which received Tripadvisor's "Travellers' Choice: Best of the Best" award, is a haven of family fun. Kids can plunge into a sparkling water park with lagoon pools, waterslides, a lazy river and more. Three kids' clubs, an outdoor playground and Candy Spa – the colourful, sweet-themed wellness zone – offer endless entertainment for youngsters. Rates start from USD 166++/ night.
With an extensive collection of 93 hotels and resorts in diverse destinations all across Asia, Centara can create the perfect vacation for every type of traveller.