With two brand new hotel openings and four hotel reopenings, the adventures never end when there are six exciting locales in Asia to explore or rediscover once it is possible for cross-border travel to resume. As the hotel brand that is all about putting the fun back into travel, OZO hotels are designed to offer a great sleep experience so that travellers hungry for new experiences always wake up feeling inspired, recharged and ready to roll.
With local residents and expatriates in Thailand, Malaysia, Hong Kong and Sri Lanka starting to take domestic getaways after months of staying home, OZO is welcoming them with two brand-new hotels in Penang and Pattaya, and reopening its hotels in Phuket, Koh Samui, Hong Kong and Kandy. Join us on a journey to these six destinations as we highlight some of our favourite local attractions, must-do activities and pro-tips to multiply the fun the next time you find yourself in these amazing neighbourhoods.
OZO George Town Penang
Where heritage trails filled with colonial structures and Chinatown shophouses live in harmony with shopping malls and technological developments, Penang provides travellers with the best of both worlds, allowing them to delve into stories of the past while also enjoying the conveniences of today. OZO George Town Penang is perfectly situated for visitors to experience all of this as it stands right at the edge of the UNESCO World Heritage listed old town, a short stroll from all of the cultural landmarks.
Say a little prayer during your next visit, whether it's at the famous Floating Mosque, in one of the Christian churches that have been around since the 18th century, or at the bright red Chinese temples around the city. In fact, did you know Penang is also home to the vividly coloured Thai temple, Wat Chayamangkalaram? Also not to be missed is the journey up Penang Hill via the original funicular railway, a trip to the past at Fort Cornwallis and a peek into the lifestyle of a rich tycoon in the 19th century at the Pinang Peranakan Mansion.
Our Penang pro-tip: Ditch the map and get a real bird's eye orientation of all the old town landmarks from Penang's only sky lobby perched atop OZO George Town Penang. Ask the hotel team members for recommended walking routes and the best stops along the way.
OZO North Pattaya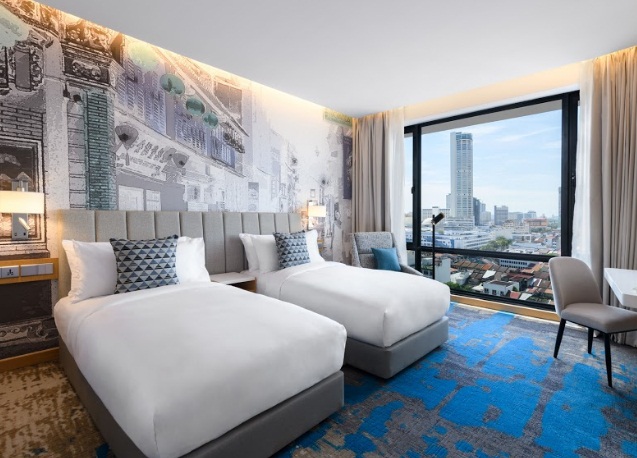 From cultural sites and island hops to epic stage productions and mega malls, Pattaya is the playground for people of all ages, whether they travel as a family, with friends or even solo. OZO North Pattaya
is a brisk stroll away from the city's established attractions like Tiffany's Show, a spectacular stage production known for its multicultural performers and gorgeous costumes and makeup, as well as Art in Paradise Pattaya, an interactive gallery full of 3D murals and fun photo opportunities for everyone to enjoy. This all-new resort is also steps from Terminal 21 Pattaya, an aviation-themed shopping mall with numerous local and international brands, an assortment of restaurants and a supermarket full of local goodies that travellers will want to bring home to share.
For cafe hoppers who can't function without their daily dose of caffeine and an Instagrammable brunch, the adorable S'more Bakery & Cafe exudes a pink energy unlike anything else they will see in Pattaya, with a hearty selection of pastries and sweet drinks to try. Further north from OZO North Pattaya is Fat Belly, a bistro with cool, clean interiors and delicious local and international fare that will please the eyes and taste buds. Whether travellers are craving a luscious stack of ribs or a flavourful plate of pad thai, topped with crispy omelette, make sure to leave room for dessert.
Our Pattaya pro-tip: Pattaya is one of the best family-friendly destinations you can visit in Thailand. With its numerous waterparks, indoor and outdoor theme parks and unusual museums and attractions, families have countless activities to choose from! If you're travelling with kids in tow, the Sleep Family rooms at OZO North Pattaya have bunk beds for the kids to climb on to, and connecting rooms if you've got teenagers who like their own space.
OZO Phuket

A calming contrast to the louder and more restless energy of nearby Patong and the Old Town, the beach town of Kata where OZO Phuket is offers a more carefree vibe and an amazing surfers' beach fuelled by a wide variety of restaurants, shops, locally-run massage stands and a traditional night market. The popular public beach is serviced by a contingent of local vendors who offer everything from decks chairs and surf board rentals, to freshly-sliced fruit and ice-cold drinks.
For a chance to discover more of Phuket beyond the beach, visitors should check out the Hanuman World theme park for an adrenaline-pumping experience, flying through the tropical jungles of Thailand. For a more spiritual and cultural experience, the nearby Wat Chalong temples showcase beautiful murals and gorgeous skies-piercing architecture. Also not to be missed is the nearby 45-metre-tall Big Buddha statue, an impressive sight for both first time visitors and those returning to seek blessings – just be sure to keep your bags and mobile devices secure from the inquisitive monkeys. The best sunset views can be enjoyed from the Promthep Cape lookout, located right on the very southern tip of Thailand's largest island.
Our Phuket pro-tip: As the closest hotel to the beach amongst all the non-beachfront hotels in Kata, OZO Phuket offers a keycard accessed 'back door' short cut to one of the island's most loved beaches. Just walk past the water slides and you'll hit the coast before you finish singing your favourite song.
OZO Chaweng Samui

Koh Samui has it all: adventure, romance, culture and relaxation. Located right on the beach, OZO Chaweng Samui offers direct access to soft waves and the off-white, sparkling sands. Whether travellers are looking for peace and quiet, or some excitement from a day of sailing and diving, once they claim that perfect spot on the beach, they will never want the holiday to end.
But there is more to the island than lazily unwinding by its famous beaches. Hidden in Samui's dense forests and hills are the Na Mueang and Hin Lat Waterfalls, the curious Magic Garden and a selection of ATV adventures down the mountainsides and ziplines with excellent coastal views. While most attractions on the island aren't a walkable distance away from OZO Chaweng Samui, exploring the island on a rented motorcycle adds an element of thrills and freedom – just be sure to observe the safety precautions and keep your helmet on at all times.
Our Koh Samui pro-tip: There are a number of cool night markets to choose from when visiting the island, but be sure to keep track of when they open – the Chaweng Lake market behind Central Festival comes alive on Thursdays, while up north in Bophut, The Wharf outdoor shopping mall opens Mondays through Fridays. However, be sure to ask our friendly local hotel team for the latest news and best recommendations.
With a sleek design that never goes out of style, OZO Wesley Hong Kong is an excellent hub for first-time travellers and return visitors alike.
OZO Wesley Hong Kong
An urban jungle with beaches and hiking trails, temples and amusement parks, shopping centres and open air markets, not to mention an endless array of restaurants to try, Hong Kong has everything a traveller wants in one place. And, in the heart of Hong Kong's business district, you'll find OZO Wesley Hong Kong, the perfect location to unpack your bags before heading out on an adventure.
Find your artsy backdrop at the UNESCO Conservation site, the Blue House and its equally vibrant neighbour the Yellow House, two living museums that showcase the "Hong Kong House of Stories" exhibition, which explore different aspects of Hong Kong's history and development. Or enter the largest temple on Hong Kong island, Pak Tai Temple, which honours the powerful martial god and is home to many other godly statues, bright red alters and golden lanterns, and the picturesque hanging coils burning incense. Maybe you prefer to hike your way up to Lovers' Rock, a relaxing trail that takes less than an hour from Hopewell Centre, and offers an escape to a calming green space with fresh, crisp air. However you want to spend your day, these are some of our favourite spots to visit that are a walking distance from OZO Wesley Hong Kong.
Our Hong Kong pro-tip: Our very first OZO property is a brisk 5-minute walk away from Wanchai Station and Hong Kong's excellent MTR train line, across the street from the Arsenal Street tram stop and has a bus stop directly in front of the hotel, so we highly recommend having your Octopus card on hand if you plan on jumping around the city for a full day of exploration.
Pack your bags with sunscreen and a swimsuit – OZO Kandy's rooftop pool sees a lot of sunshine throughout the year.
OZO Kandy
In the heart of Sri Lanka, you'll find OZO Kandy surrounded by lush hills and tea plantations alongside ancient temples, museums and art centres and shops selling all sorts of local products. It's a peaceful town that is especially popular among travellers who are looking for a spiritual experience, a cultural immersion or are purely looking to appreciate nature in all its glory.
Those visiting Kandy are always told not to miss out on the Temple of the Tooth Relic compound, with its beautifully restored buildings and a museum for a little extra learning on your trip. Nearby the temple is also the Kandyan Art Association, which is most famous for its cultural dance performances. But, they also offer traditional Sri Lankan craftsmen the opportunity to showcase their works and fine art, whether it be wood carving, painting, jewelry making or music. And, while it may not be on top of the world, the Arthur's Seat viewpoint offers panoramic views of Kandy Lake, the iconic Temple of the Tooth Relic and the city centre.
Our Kandy pro-tip: The hotel's rooftop pool is the spot for the best views of Kandy and the lake, and backdrop for a massive graffiti wall art by well-known Parisian artist Marko '93. This permanent outdoor art installation was commissioned in 2016 as part of the French Spring Festival organised by the French Embassy in Colombo to depict the long term friendship between France and Sri Lanka, and continues to be a head turner till this day.
Treat yourself to a much-needed holiday and double the fun with OZO's Stay Local promotion that offers 99% off room rates for the second night of your stay. This promotion is valid for stays from now until 31 March 2021. Different blackout dates may apply for each property. For more information, visit https://www.ozohotels.com/flash-sale