Following the success of Regent Phu Quoc's first Taste Studio in April 2023, the resort is proud to introduce its second Taste Studio pop-up from November 15-18, 2023. Regent Taste Studio is a one-of-a-kind, interactive dining experience that brings together creative talent from the worlds of art, design, fashion, and gastronomy. The concept brings together Regent chefs and artists from across creative disciplines – from fashion designers to film producers to musicians – where together they go beyond fine dining to create true multisensory culinary moments.
"An Odyssey to Vietnam" – the theme of the November Taste Studio pop-up – will serve as an immersive experience that combines craftsmanship and fine dining to celebrate Vietnam's culture, rich folklore, and mythical stories that have captivated generations. The event will take place at Regent Phu Quoc's reimagined Ocean Club restaurant and will merge art and gastronomy for a one-of-a-kind showcase.
The four-night event will celebrate the convergence of food, design and music featuring Oku Chef de Cuisine, Andy Huynh and Ocean Club Chef de Cuisine, Daniel Huynh. Joining them will be celebrity guest chef Hoang Tung, and renowned mixologist Richard McDonough, known as the "mood therapist." In addition, AC3 Studio, a team of innovative Creative Technologists, along with other exceptional local talents will play a vital part in the Taste Studio pop-up.
The Regent Taste Studio experience is divided into eight captivating chapters – this unique combination creates an unforgettable experience, as participating artisans bring these narratives to life through a universal and immersive experience.
Guests can look forward to the Ocean Club restaurant serving as the canvas for these narratives to come alive, skillfully brought to life by the creative team in residence.
Chef De Cuisine Daniel Huynh at Ocean Club
Born and raised in Vietnam, Daniel's passion for food started at a young age, sampling the variety of flavors available around him. Apprenticing at some of the finest restaurants in Vietnam, he's joined the team at Regent Phu Quoc to head up Ocean Club, a beachfront, Mediterranean-inspired lifestyle restaurant. Inspired by Vietnam's multiple cultures and melting pot of cuisines and traditions, Daniel loves to play with overseas inspirations and local favorites to bring new creations to life.
Chef De Cuisine Andy Huynh at Oku
Born in Vietnam and raised in California, Andy grew up between land and sea, discovering early the value of each ingredient and their cultural meaning. He honed his Japanese techniques with Nobu for many years, from San Diego to Nassau, before joining the team at Regent Phu Quoc to open the contemporary Japanese – French restaurant Oku. His creativity fuses a flurry of influences, from modern art to far-flung travel, but his dishes are always rooted in a deep respect for the finest ingredients and products.
Executive Pastry Chef, Duyen Nguyen
Chef Duyen Nguyen grew up in Ninh Binh, a Northern province in Vietnam that's known for its magical riverine landscape and an UNESCO's world heritage site. Chef Duyen is a traditional French pastry cuisine aficionado with a passion for art and colour that he translates into his cuisine. Inspired by the picturesque nature of his upbringing, Chef Duyen incorporates local ingredients and flavours of his homeland into the pastries he makes.
As the Executive Pastry Chef at Regent Phu Quoc, Chef Duyen aspires to create unique and sensory experiences for guests. He uses rose myrtle fruits or peppers, both of which are found only in Phu Quoc island in his sweet and savoury creations.
Guest Chef Hoang Tung
Hailing culinary expertise and creative flairs that set him apart from many, Chef Hoang Tung is a creative force behind the revolutionary T.U.N.G dining, famed for introducing Vietnam's inaugural tasting menu in 2018. T.U.N.G dining secured a coveted spot among Asia's 100 Best Restaurants in 2021, recognizing Chef Tung is the youngest Vietnamese Head Chef to receive this distinction at the age of 28. Notably, all four of the restaurants under his helm were designated in the prestigious Michelin Guide 2023, encompassing two fine dining restaurants, T.U.N.G dining and Å by TUNG, as well as two other casual restaurants.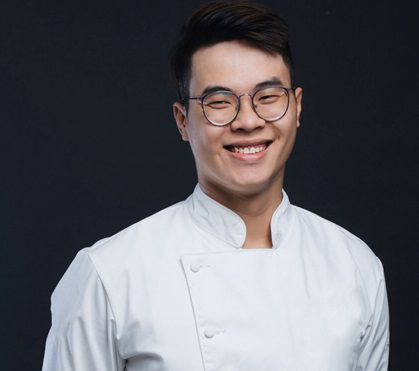 Chef Tung's culinary ingenuity draws inspiration from seasonal ingredients, reimagining traditional Vietnamese fare with innovative techniques to create dishes that inspire memories for years to come.
Chef Tung continues to redefine the global presence of Vietnamese cuisine, he envisions a future where Vietnamese chefs unite to amplify their culinary heritage on a global scale.
Guest Mixologist The Mood Therapist – Richard Mcdonough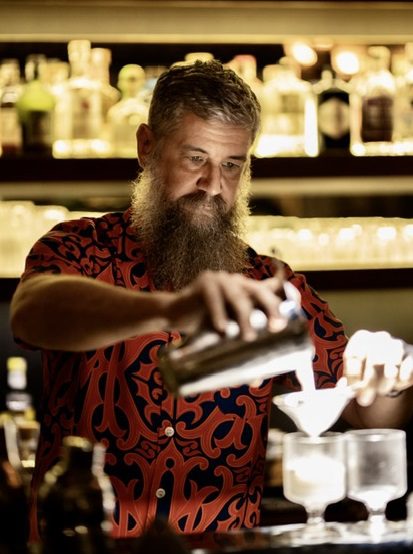 McDonough started with a passion for home cooking that grew into more than simply a passing interest in modernist cuisine.
The equipment he began using was more commonly found in laboratories, not home kitchens, so he looked to cocktails to meet that thirsty demand for larger numbers of guests. And so, The Mood Therapist was born.
He is also called a "bar chef" – a Molecular Mixologist who mixes cocktail ingredients on the molecular level using scientific techniques and tools, such as centrifuge and nitrous oxide with liquid nitrogen.
Artist Pham Hong Minh, An Extraordinary Performance Painter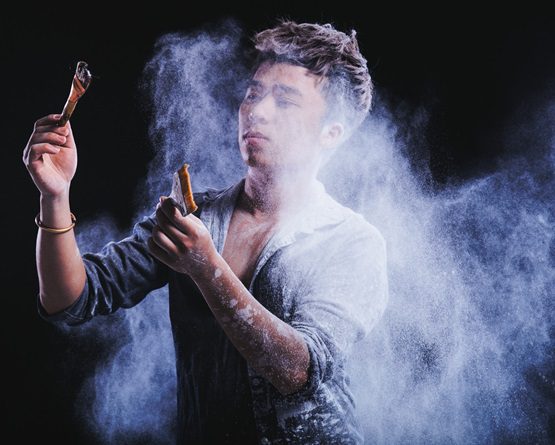 Pham Hong Minh is an exceptional performance painter who has received numerous accolades for his artistic brilliance. In 2015, he was crowned the Champion of the HTV "You Got Talents" Competition, and in 2013, he achieved an impressive Top 3 placement in the prestigious VTV "Vietnam Got Talents" Contest. Mr. Minh has also made history in the Guinness Vietnam record books as the first artist to perform painting with the water technique. Using a captivating combination of water, fire, and glitter, Mr. Minh creates a mesmerizing visual spectacle that goes beyond the boundaries of traditional art. With graceful brushwork and skillful maneuvers of his tools, he brings vibrant colors to life on the canvas, revealing intricate details and evoking emotions that truly captivate audiences.
Visual Artist AC3 Studio
AC3 STUDIO has prepared an enchanting transformation of Ocean Club Restaurant into a mesmerizing setting that springs to life. Using dynamic canvases, they will skillfully craft narratives that evoke deep emotions and leave audiences in a state of wonder. Known as Creative Technologists, AC3 Studio will take guests on an unforgettable odyssey through Vietnam. Get ready for an immersive and visually stunning experience.
Drum Performers, Trong Dong Band
The Trong Dong Group from Vietnam National Academy of Music was established by artist Truong Thi Thu Ha in 2012, with a desire to spread the essence of traditional music and showcase the strength of the nation through rhythmic language and tempo.
The Trong Đong Group is the only traditional drum group in Vietnam with systematically trained and professional artists. The group has performed in numerous significant events organized by the government, both domestically and internationally. The works of the Trong Đong Group always uphold the harmony of sound and consistency in performance style, preserving the essence and soul of the nation while incorporating the breath of the contemporary era.
In addition to hosting the one-of-a-kind Taste Studio pop-up, Regent Phu Quoc is home to six on-property food and beverage destinations offering guests everything from local fare and Japanese French fusion to a speakeasy style cocktail bar.