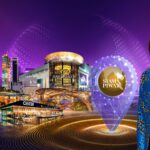 The luminary real estate and retail behemoth, Siam Piwat Co., Ltd., famous for illustrious ventures such as Siam Paragon and ICONSIAM, has set the stage for a groundbreaking move. The company is earmarking an enormous THB 1 billion in the fourth quarter of 2023 to magnetise a whopping 30 million tourists. This initiative aligns with the nation's tourism-enhancement strategy, appropriately termed the "Strategic Pillars".
CEO Ms Chadatip Chutrakul articulated the company's achievements and aspirations, "For years, Siam Piwat has been instrumental in etching Thailand's name as the foremost destination on the global map. With our malls experiencing a meteoric 46% surge in visitors in 2023 alone, it's a testament to our dominance in the international real estate panorama."
The company's visionary approach rests on four robust pillars:
Unparalleled Luxury Shopping Experiences: In its quest to elevate Thailand's luxury segment, collaborations with top-tier luxury brands are in the pipeline. An astonishing 20 luxury brand outlets are projected to debut in the upcoming quarter. Furthermore, there are ambitious plans for launching unique pop-up stores and international events with 40 leading brands until 2024's conclusion.
A Global MICE and Event Leader: The company has joined hands with government bodies and the private sphere to draw in business aficionados and high-ticket tourists. Esteemed venues like Royal Paragon Hall and True Icon Hall have hosted 40 global events in 2023, and the following year already promises a 70% booking rate. Negotiations are underway to co-invest in a fresh convention centre with a worldwide event maestro.
Bangkok – The Art Capital: Siam Piwat is syncing its energies with state units to position Bangkok as Southeast Asia's epicentre for art, enticing artists worldwide. The much-anticipated River Museum at ICONSIAM, slated for 2026, is set to be Thailand's maiden world-class museum.
Promotion of Thai Soft Power: With the advent of SookSiam, Siam Piwat provides a springboard for showcasing Thailand's soft power. Drawing in 70,000 daily visitors, it's a platform for over 6,000 SMEs across Thailand to display their unique offerings. The company's brainchild brands, like ICONCRAFT, ODS, and ECOTOPIA, also make international waves.
Concluding the announcement, Chutrakul stated, "Our passion is unwavering. With an allocated THB 1 billion for Q4 and plans to magnify this investment next year, we are committed to supercharging Thailand's tourism in alignment with the government's directives."
Written by:

Supaporn  Pholrach (Joom)
===================================