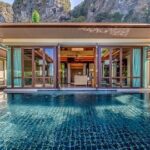 Forty years ago, Thailand's leading hotelier, Centara Hotels & Resorts, penned a new chapter in hospitality. With an unwavering commitment to offering heartfelt, family-centric services, Centara has been a frontrunner in crafting guest rooms that resonate with familial needs.
From Thailand's sun-kissed beaches to Dubai's glimmering coastlines, Centara has etched its mark as the epitome of luxury and comfort. The brand has ingeniously curated resorts that are not just places to stay but vibrant spaces where parents and children weave memories that stand the test of time.
Centara Reserve Samui: Where Luxury Meets Leisure
Imagine waking up to the soft melodies of waves in a spacious suite tailored for the family. The Centara Reserve Samui offers a plethora of choices, from the expansive 80-sqm Reserve Ocean Suite to the palatial 501-sqm Reserve Ocean Pool Villa. Every corner reflects a thoughtful design with children's amenities, ensuring the little ones feel as pampered as the adults. And what's a vacation without adventures? The resort ensures young minds are engaged and entertained, from junior cooking lessons to Thai boxing.
The cherry on top? Their 'Reserve Journey' package. Four nights of uninterrupted luxury come bundled with delectable dining credits, an endless supply of minibar delights, and rejuvenating spa discounts.
Centara Grand Beach Resort & Villas Krabi: A Hidden Jewel Awaiting Discovery
Secluded in a sandy haven, accessible only by boat, Centara Grand Beach Resort & Villas in Krabi offers a sense of exclusive serenity. The cascading pools, the pristine beaches, and the marine excursions propel families into a world of adventures. Like the majestic 399 sqm Royal Villa, their exquisite villas promise opulence at every corner, overlooking the tranquil Andaman Sea.
Centara Grand Mirage Beach Resort Pattaya: An Enthralling Aquatic Utopia
Families seeking unparalleled fun, look no further! Centara Grand Mirage Beach Resort in Pattaya encapsulates the essence of aquatic excitement. The 'Lost World' themed park promises endless splashes, while the diverse range of activities from ziplining to movie nights ensures entertainment is omnipresent.
The suites, including the Club Mirage Family Suite Ocean View, are architectural marvels, blending comfort and luxury seamlessly, offering panoramic vistas of the Gulf of Thailand.
Centara Mirage Beach Resort Dubai: A Tapestry of Myths and Adventures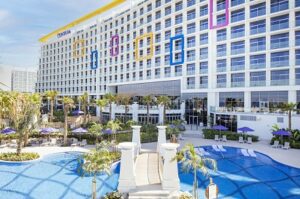 A melange of Thai myths and Arabian tales, the Centara Mirage Beach Resort in Dubai is an architectural spectacle. Located on the pristine waterfront of the Arabian Gulf, the resort promises water park wonders, myriad dining escapades, and an exclusive Candy Spa for young guests. Suites like the Mirage Two Bedroom Panoramic Sea View have been crafted, keeping the family at the heart of the design.
The Centara Legacy
With over 50 lavish resorts spread across diverse Asian landscapes, Centara stands as a beacon for unparalleled family vacations enriched with the essence of Thai hospitality.
For an intimate look into Centara's world of luxury, visit their official website.
Written by:

Supaporn  Pholrach (Joom)
===================================