In the era of social media, it has become a space to express one's identity. Travel experiences presented on social media are a way to showcase lifestyle, status, and the pursuit of happiness in visiting, trying the food, shopping, exploring new and exotic places, and spending money to purchase various levels of happiness. It goes beyond merely gaining popularity through travel photos.
Behind the destination, Some people discover something hidden in their travels – the meaning of life, the essence of existence, through experiences from the vast world of different languages, cultures, and places. We find out a deeper understanding and appreciation of the true essence of life, The inspiration to live a meaningful life beyond external factors.
Travelling to a different place teaches us more valuable lessons than reading ten books, as what we encounter and our emotions vary from the stories and reviews we read. Each moment, social,  environment, people we meet, and weather contribute to unique experiences and diverse lessons. Ultimately, it depends on the circumstances that lead us to face unexpected situations, even with advanced planning.
In 2023, Thailand embarks on meaningful travel through its soft power, offering valuable experiences that touch deep within our hearts. The charm of being Thai, nurtured by our cultural roots and identity, allows us, the Thai people, to warmly welcome travellers as good hosts, sharing experiences and offering genuine hospitality to spread the essence of Thai life.
This is a way to contribute to the community's income and the sustainable growth of the tourism industry. The Tourism Authority of Thailand (TAT) aims to achieve a revenue of 2.38 trillion baht in 2023, with at least 80% back to 2019, before the pandemic. The tourism sector has driven Thailand's economy forward in the world economy; meanwhile, the primary industries, such as exports, are not as strong as expected because of the effect of war-related crises.
Chiang Rai is one of the paths to learning the way of life and the deep cultural roots of the Thai Lanna people. This province blends various cultures and ethnicities, including the Lanna people, Chinese immigrants, and hill tribes. It represents the beauty of Chiang Rai's cultural heritage, mainly influenced by the Lanna culture, a lifestyle connected with nature, and an art of simplicity passed down through arts and cuisine. With its soft power, the charming and unique Chiang Rai lifestyle is a distinctive identity. TAT Co-Operation with Foodpanda invited international influencers residing in Thailand and journalists to learn about the lifestyle of the Chiang Rai people through their own experiences."
Ahsa Farmstay Living in Nature Learning by doing as farm dwellers.
"Ahsa Farmstay" is a homestay where visitors can engage in hands-on activities. It starts with experiencing the colourful and authentic northern Thai rural way of life in agriculture.
The founder and manager, Im-Rasawan Kamwang, previously had experience in the tour company "Rungruk Jan Co., Ltd." They transformed 100 rai (approximately 40 acres) of land in the Mae Chan District, Chiang Rai Province, into a learning centre and a community-based tourism destination. The goal is to offer visitors a close-to-nature experience that feels like staying home, providing a warm and family atmosphere.
Hence, The name "Ahsa" has positive meanings in several languages. In the local dialect, it means "life." In Thai, it means "a person who selflessly benefits for the public (volunteer)," and it is related to the Italian word "Casa," meaning "home."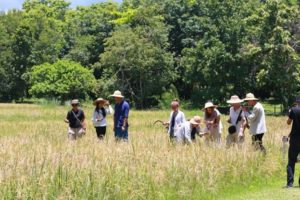 Once you arrive at Ahsa Farmstay, the idea is for guests to feel part of one big family on the farm, different from typical tourist experiences. Instead of just arriving at a hotel, where bellboys take your luggage to your room, you can order food over the phone or walk to a restaurant to choose your menu, have a joyful meal, take photos for social media, pay the bill, and return to your room to relax or go out for leisure activities without knowing what effort went into providing that fulfilling meal.
At Ahsa Farmstay, you can witness every process leading up to creating your favourite dish on the plate.  The concept "From the farm to the table" has numerous stages behind the scenes; there are hard workers for us. We have to learn by doing to empathy and understanding them.
The farm covers 100 rai of land and practices organic agriculture, including various crops such as rice, egg-laying chickens, buffalo, rubber plantations, vegetable gardens, flower gardens, and fish ponds. There is a large water reservoir for year-round farming, allowing two rice crops to be harvested annually, The productivity in organic farms is high-quality rice that can be sold for 100 Baht per kilogram.
The team members at Ahsa Farmstay take on various roles, including gardeners, farmers, guides, and chefs. They wear traditional farmer's attire, symbolizing their dedication to farming. They offer visitors a chance to experience organic and integrated agricultural practices. Guests can greet and get to know the buffaloes, even though they no longer work ploughing the fields. For many years, These buffaloes have played a significant role in the lives of farmers, who used to work tirelessly to grow rice for our consumption.
In summary, Ahsa Farmstay offers a unique experience beyond typical tourism by involving visitors in every step of the agricultural process, from the farm to the table, and providing a deep connection with nature and the local community.
Engaging in activities with Ahsa Farmstay helps urban dwellers distance themselves from the hustle and bustle of city life, where they often live according to schedules, rush hour, reside in buildings, roam the streets, and rely on buying food, going to malls, and staying connected online. It leads them to forget the joy of connecting with nature and taking time for relaxation.
However, staying amidst nature at Ahsa Farmstay allows people to reflect and get closer to themselves, bringing back the instinct to adapt to survival abilities according to the natural way of life. Living surrounded by nature, without spending money, everything required for survival is available on the farm. All you need to do is go and get it by yourself and learn how to cook, such as taking vegetables from the garden and fruits and then cooking them yourself. There is a cooking class with a leader chef to help you with everything. Even though it might seem like a small thing to do, it is at least a learning experience of living close to nature, understanding the essence of true humanity, and helping us rediscover our true selves amidst hectic lives. The most crucial factors for our energy come from the heart, and anything beyond these factors is external influences and materialistic symbols that express social status.
Furthermore, the experience of learning about people from different places, studying the lifestyle of farm dwellers, and their simple and peaceful life without high technologies. They wake up early to live with nature, doing agricultural work, but they seem to live a healthy lifestyle and have robust mental health because they don't need to compete and struggle in the big city.
The package includes staying and learning from various farmers and local farming activities such as rice planting, carving rubber plantations, and learning about different exotic fruits and the animals on their farm (buffaloes, geese, ducks). Guests can also enjoy cooking Northern Thai food and making soap and crafts with flowers and leaves.
"Stay Green, Feel Clean, and Relax" with local hospitality. Rates include three meals daily in the 2-day, 1-night package at Ahsa Farmstay, priced at 2,800 Baht per person. For more information, visit the website www.ahsafarmstay.com.
Doi Pha Mee The King footprint Deforest Mount transform Hill tribe livelihood.
New generations and foreigners often wonder why Thai people love and are devoted and loyal to the monarchy In  Doi Pha Mee, located in Mae Sai District, Chiang Rai Province. Many stories mark the beginning of the footsteps of King Bhumibol Adulyadej during His Majesty's reign, The king visited Doi Pha mee three times in 1970, 1971, and 1974. His Majesty and the Queen also visited Doi Tung, After calling and talking to the hilltribe, there was transforming the former opium-poppy cultivation area, which used to be a deforested mountain on the Myanmar border, into a green forest and a natural tourist attraction.
It became the first area to grow Arabica coffee in Thailand, creating jobs replacing opium and shifting cultivation with forest plants. The transformation turned Doi Tung and Khun Naang Nong Mountain into a green and pristine natural tourism destination, especially during the rainy season when tourists flock to experience the beauty of Khun Naang Non.
Most Doi Pha Mee residents are of the Akha hill tribe, with their language, culture, and unique culture. We have probably heard many legendary stories from both elders and younger generations about the traditions and tourism in Doi Pha Mee. The area has developed into homestays and coffee shops, and all are well-designed with photo spots, viewpoints, and places to enjoy tea and coffee.
In addition, there are workshops on community wisdom, coffee processing innovations, and bamboo coffee drippers that the Akha people have developed to replace unsustainable online purchases and coffee grinding machines.
Apart from being the first coffee plantation area, Doi Pha Mee has excellent coffee quality due to its limestone terrain and high mineral content, resulting in a mellow flavour. It is also a place to grow macadamia nuts, which came from a royal initiative to provide seedlings for cultivation. This has improved the livelihoods of the locals and increased their economic stability as their produce is sent to support royal projects.
This long and enduring bond began from the sustainable vision when King Bhumibol Adulyadej first journeyed into this remote area, which was once far from development. It has led to a better life for the hill tribe people, and they and their families have been loyal and grateful for the royal benevolence up to the present day. The Royalty and the hill tribe people have been intertwined for a long time, creating a solid bond between them.
Connect the soul of the big heart of friendly wildlife—the journey into the oneness of the universe.
The elephant is an animal that is an integral part of Thai culture and history. Elephants are revered and awe-inspiring as they represent the dynasty of Thai royalty. there is a long lifespan and their connection to the country's history, including its fight for independence and the creation of Thailand as a strong country. In the past,   Elephants were used as instruments of war. The single battle between King Naresuan and the Crown Prince of Burma, Myingyi Swa, has been remembered as one of the most legendary battles in Thai history. One of Thailand's finest moments, which has become vital to the nation's psyche, is King Naresuan's victory and freeing Thais from Burmese subjugation.
Elephants have always been cherished as royal animals during the reign of King Rama IX. Moreover, elephants also have represented the nation in international relations and diplomacy, as they were sent on missions and ceremonies abroad.
In recent years, Thailand has faced challenges with roaming elephants. Domesticated elephants often need to venture into urban areas with their mahouts (handlers) to earn a month of a living by selling food to elephant lovers. This situation has led to incidents where elephants are mistreated or involved in accidents, such as being hit by vehicles.
Furthermore, the tourism industry has also impacted elephants negatively. Many elephants have been moved from their natural habitats, and their lives have become unnatural and subject to exploitation. They are often trained inhumanely and harmful to perform circuses, carry tourists, or participate in other activities that are not part of their natural behaviours. As a result, many elephants suffer injuries and endure harsh living conditions.
Elephant conservation efforts have addressed these issues by establishing various foundations to care for and nurture elephants in a more natural environment. These initiatives promote responsible tourism, allowing elephants to roam freely and interact with visitors without engaging in unnatural activities. Visitors can observe elephants walking through the forest, playing with the elephants' gang, and bathing in the river. Mahouts use verbal cues and gestures instead of hooks or other harmful tools and strictly prohibit violence towards the elephants. Most importantly, elephants can decide whether to participate in any activity.
One of these elephant conservation projects is "Anantara Golden Triangle Elephant Camp & Resort," run by the Golden Triangle Asian Elephant Foundation. The camp covers over 100 rais (40 acres) of forest and provides a home for more than 20 elephants and their mahouts and families. The aim of bringing the elephants to the camp is to reduce the issue of roaming urban elephants and provide them with a good quality of life. The elephants receive adequate food, including grass grown in the camp, and supplementary feed, such as bananas and sugarcane, twice a week. They also have access to a river, where they can bathe and play freely.
During our visit to the camp, we were introduced to the elephant herd for a forest walk. Our group had five elephants, the youngest being a three-year-old named "Chok Phet." He was still getting used to the camp and was playfully running around. Another oldest elephant is 65 years old; her name is "Boonma" All of the elephants in the camp were friendly and interacted with visitors, hugging and trunk-greeting them throughout the journey. Walking along the forest path, we got to know the elephants and became more comfortable with their presence. The elephants showed affection, and we gradually lost our initial fear of elephants.
Towards the end of the walk, when it was time for the elephants to return to the camp, they were called back by their mahouts. It was heartwarming to see how these elephants, known for their intelligence and friendliness, willingly followed their mahouts' commands. We felt deeply impressed by the elephants' intelligence, friendliness, and genuine nature, which made us want to return soon.
Wat Rong Khun. Indulging in the artwork of Chalermchai, the artist of the Chiangrai world of Dhamma… Living life under the shade of the Buddha.
Anyone who visits Chiang Rai and doesn't come to Wat Rong Khun is considered to have not fully visited Chiang Rai. The contemporary art of Chiang Rai City changes and develops all the time. Those who visit the temple would see the new decoration, with new art additions and lessons, and learn Dhamma teaching there. This is the place where visitors consider learning life philosophy through endless art.
The starting point of the journey to the ordination hall is the gate of the bridge from hell to heaven before paying respect to the Buddha Sculpture in the ordination hall.
The idea of creating sculptures along the path before reaching the ordination hall is to pass through the inferno, representing a work of art that simulates hell filled with the remains of the deceased and tormented souls in purgatory. The narration in the temple guides us as we walk through the inferno, reminding us to keep walking and moving forward without looking back or walking backward, symbolizing life's journey of learning and overcoming purgatory, to be at peace and in a state of mind without distraction. You would reach bliss.
Walking through purgatory and remaining unaffected by various temptations allows us to proceed and encounter beauty, tranquillity, purity, and heaven. That is the beautifully white, magnificent Buddha in the ordination hall.
In the province of Chiang Rai, legendary artists of Thailand and worldwide. These two gurus of artists who created masterpieces are Ajarn Thawal Dachanee, whose works are reflected through the Black House Museum, representing the psyche to illustrate abstract and concrete objects of the earth and human consciousness, solidly rooted, ultimately reduced to bones and ashes, the core value of existence.
Meanwhile, Ajarn(guru) Chalermchai Kositpipat, an artist who dedicated himself to creating art in the stunning and unique Buddhist temple, also known as the white temple, one of the most tourist attractions in the region. Wat Rong Khun continuously develops their art as a lesson in life philosophy. His artworks combine painting and sculpture, representing the art of King Ram 9's reign as the monarch. His works are commissioned for illustrations in the book "Phra Maha Chonok."
The artworks at Wat Rong Khun by Ajarn Chalermchai use white to symbolise purity, beauty, and cleanliness of the soul, the true happiness of humanity. The symbolism of Nirvana or enlightenment in Buddhist belief represents the spiritual journey towards liberation from suffering and the cycle of birth and death.
The lesson taught at the entrance illustrates that the bridge proclaims that the way to happiness is by preceding temptation, greed, and desire before entering the temple and accessing inner peace for a moment as if in heaven. This is the ultimate goal that Ajarn Chalermchai aims to convey, educating people on the true essence of life and spirituality from Buddhist teachings.
His inspiration happened after studying Buddhism and achieving success as an acclaimed artist. He gained a reputation and prosperity, but the more he self-realised, those external successes didn't alleviate his suffering. He found true happiness while studying Buddhism's teachings and discovering true happiness through experiencing the world of Dharma. It transformed his hot-tempered self into a calm and serene person, letting go of external factors, and he found true happiness in the end.
Ajarn Chalermchai was determined to dedicate his life to creating art that blends with Buddhist teachings to contribute to Buddhism. His artworks have transformed Wat Rong Khun into an art temple attraction and an important tourist destination of Chiang Rai, spreading the teachings of Buddhism to visitors and allowing them to understand the essence of life philosophy.
The 3 Pillars of Ajarn (Guru) Chalermchai have driven his belief in the creation of Wat Rong: Nation, Religion, and King.
Nation: With compassion for the country and the city's art, he hoped to create art that would become a national treasure, representing the homeland and the nation, giving Wat Rong Khun a reputation worldwide in the art of Buddhism.
Religion: His study of Dhamma became a turning point in Ajarn Chalermchai's life, transforming his hot-tempered self into a calm and serene person. He relinquished the on top of the world, which external accomplishments or recognition such as wealth and reputation, to dedicate himself to Buddhism.
King: After having an audience with King Rama 9 Reign, he offered works of art to the monarch. Ajarn Chalermchai witnessed the artistic genius and the kindness of the monarch. This led to his profound respect and dedication to creating art for King Rama 9 because of his commitment to the people. He travelled extensively throughout the country for development projects to improve rural lives.
The inspiration for making Wat Rong Khun an artwork with a unique identity, unlike any other reign's art, and having international appeal.
Thai people are down-to-earth, and their adaptable nature enables them to survive. Thailand is the only country in Southeast Asia that remained independent during the colonial era. This achievement was due to diplomacy, intelligent governance, and strong leadership maintaining a delicate balance between competing European powers. This led to their respect for the uniqueness of Thai culture and religion, notably Buddhism.
These form the foundations of the Landmark of 4 Destinations, attracting travellers to journey throughout the country, inspiring and replenishing their life force, and prompting them to reevaluate life's meaning and spirit. Living with consciousness and admiring the true nature of the Thai people, the country's abundant natural resources make it the land of food and creativity in culinary skills, contributing to a prosperous nation and offering warm hospitality that brings true happiness to guests from all over the world.
Written by:  Prakaidown Baengsuntia
=================================