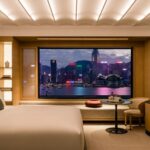 In the flourishing heart of Asia Pacific's hospitality landscape, IHG Hotels & Resorts heralds a new epoch of growth fueled by a reinvigorated travel appetite and innovative brand proliferation. Elie Maalouf, the CEO of IHG—a beacon in the hotel industry—cast a spotlight on this trajectory while gracing the esteemed Hotel Investment Conference Asia Pacific (HICAP) in Singapore.
IHG's saga of expansion is not just a tale of scaling heights but a visionary endeavour in the bustling APAC region. Amidst the backdrop of a resurging global travel ecosystem, Maalouf articulated a narrative of resurgence, with the company's third-quarter revenue per available room (RevPAR) soaring by 10.5% year-on-year worldwide. This resurgence is particularly noteworthy in the context of group and meeting bookings, which have surged a staggering 37% beyond the pre-pandemic zenith of 2019.
Delving deeper into IHG's strategic growth chronicle, Maalouf pinpointed the Greater China region's remarkable rebound. There, the Q3 RevPAR has eclipsed 2019 figures for the inaugural time—a clear indicator of the region's robust recovery. Adding to this optimism is the air travel sector's revival, with domestic flights in APAC and China reaching new altitudes beyond their 2019 counterparts. Though international routes are threading a path to their former peaks, the hundreds of new pathways carved out by airlines worldwide are a harbinger of the buoyant times ahead for the travel and hospitality sectors.
With an illustrious array of over 6,200 hotels, encapsulating a staggering 930,000 rooms—including the Carlton Cannes in France, the inaugural voco property in Osaka, and the Kimpton Qiantan in Shanghai—IHG's portfolio gleams with stellar additions. The group's signing activities have witnessed a phenomenal 27% upsurge year-on-year, with 123 hotels embodying 16,800 rooms signed globally in the third quarter alone. This expansion trajectory is particularly marked in the Luxury & Lifestyle, where IHG's presence has expanded dramatically.
The CEO reiterated IHG's blueprint for growth, emphasizing that the APAC region is not merely a market but a cornerstone of its global strategy. Here, half of IHG's system size and pipeline emanates from revered brands such as Holiday Inn Hotels & Resorts and Holiday Inn Express. These brands maintain an indomitable presence in the upper midscale segment. Maalouf revealed a zealous pursuit of diversified growth across all market segments, with Luxury & Lifestyle now accounting for 14% of IHG's system size and a striking 22% of its global pipeline—a testament to the company's strategic foresight.
This luxury narrative is underpinned by the InterContinental brand, with over 60% of its global pipeline flourishing in APAC. Additionally, the venerable Regent Hotels & Resorts is poised to celebrate the much-anticipated return of its flagship property, the Regent Hong Kong.
In the digital realm, IHG is fortifying its dominance through investments in a robust enterprise platform. The One Rewards loyalty program has amassed over 115 million members, spurred by a 60% rise in enrolments in the first half of 2023 alone. Complementing this digital surge is the revamped IHG mobile app, now a conduit for half of the digital bookings.
Guided by its 'Journey to Tomorrow' initiative, IHG is dedicated to a ten-year plan echoing the United Nations' 17 Sustainable Development Goals. This commitment manifests in IHG's devotion to nurturing its people, community, and planet. Charitable undertakings in the APAC region—ranging from collaborations with The Association for Persons with Special Needs in Singapore to partnerships with food rescue organizations and contributions to disaster relief—illustrate IHG's resolute corporate citizenship.
As Maalouf poignantly stated, "It's important to us that, as we grow our business, we do so in the right way." Through strategic expansion, fostering inclusive workplaces, and propelling environmental stewardship, IHG is not merely riding the wave of demand but shaping the currents of the global travel and hospitality industry.
Written by:

Supaporn  Pholrach (Joom)
===================================