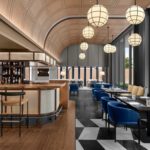 Marriott Bonvoy extends its footprints into Thailand's heart, launching its first hotel from the celebrated Autograph Collection – Madi Paidi Bangkok. Situated in the cultural nerve centre of Thong Lor, Sukhumvit, the hotel offers a splendid fusion of local culinary delights, arts, and entertainment.
In the words of Jennifer Connell, VP of Distinctive Premium Brands, Marriott International, "Bangkok, known for its intricate tales and distinct style, serves as the perfect backdrop for our Autograph Collection. Madi Paidi Bangkok promises an evocative experience, resonating with the city's core essence."
Madi Paidi's architectural brilliance is a nod to Thong Lor's dual charm: a tranquil neighbourhood set against a buzzing backdrop. Stepping in, guests are ushered into a world where traditional aesthetics meet modernity. The hotel has meticulously carved out 56 uniquely themed rooms, drawing inspiration from Thailand's treasured gemstones: Topaz, Sapphire, and Emerald. Further enhancing the ambience, woven bamboo symbols are integrated to wish guests fortune and safety.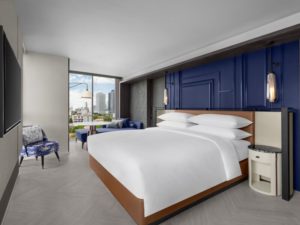 A notable culinary attraction is EKKALUCK, the hotel's in-house dining gem. It offers an array of delicacies by day, but as nightfall arrives, it metamorphoses into a luxury Thai restaurant. At its helm, Executive Chef Wuttisak Wuttiamporn crafts tales through his plates using exclusive local ingredients.
Complementing the stay, wellness aficionados can indulge in the rooftop gym and pool, offering panoramic views of the city's skyline.
Roger Parnow, the hotel's Cluster General Manager, extends a warm invitation: "Madi Paidi Bangkok stands as a testament to the harmonious blend of tradition and modernity. We're eager to present this unique narrative to our guests and let them craft their own Bangkok tales."
Perfectly placed in Soi Pai Dee Ma Dee, adjacent to the bustling Soi Thong Lor, the hotel offers quick access to the city's landmarks and transport hubs. Moreover, Marriott's award-winning loyalty program, Marriott Bonvoy, ensures guests can accrue and utilize points during their stay, making their experience even more memorable.
For bookings, visit http://www.madipaidibangkok.com/.
Written by: My Thanh Pham
================================