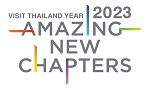 In a significant turn of events, Ms. Thapanee Kiatphaiboon has assumed her esteemed role as the Governor of the Tourism Authority of Thailand (TAT), marking a new chapter in the authority's leadership.
Beginning her illustrious journey with TAT in 1999, following her master's accomplishments from the prestigious University of Surrey, Ms Thapanee's career has seen a remarkable trajectory. She has occupied influential positions like the Deputy Governor for Tourism Products and Business and, more recently, the Deputy Governor for Domestic Marketing.
In her preceding role spearheading Domestic Marketing, she championed several tourism drives pivotal in reviving Thailand's tourism post-pandemic, resulting in a commendable 151.45 million domestic trips in 2022, amassing a staggering 641.5 billion Baht.
Under her astute leadership, the inception of the Amazing Thailand Safety and Health Administration (SHA) certification took place, bolstering the hospitality sector during the rigorous pandemic era. This endeavour, compliant with the WTTC SafeTravels protocols, made a considerable global impact.
Not stopping at that, she innovatively launched the Special Tourist Visa (STV) scheme, paving the way for further ingenious programs like Villa, Yacht, and Golf Quarantine. The Phuket Sandbox is a testimony to her strategic planning, now hailed as a blueprint for Thailand's re-emergence on the global tourism stage.
With a flair for technology, Ms. Thapanee has seamlessly integrated it into Thailand's tourism promotion. Collaborations like the Google Street View project and the dynamic 'Amazing Thailand' digital platforms are a testament to her visionary approach.
Her commitment to promoting Thailand's varied tourism facets, from wellness and cruise tourism to community-driven initiatives, has garnered international acclaim. Under her leadership, the "King's Wisdom for Sustainable Tourism" venture clinched the prestigious PATA Grand Awards 2018, earmarking her substantial contribution to the sector.
From her early tenure, she was a linchpin in elevating intra-regional travel within the Greater Mekong Subregion (GMS), solidifying her stature in Thailand's tourism landscape.
Written by:

Supaporn  Pholrach (Joom)
===================================