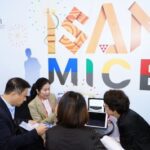 Thailand's IT&CM Asia 2023 Showcase Yields Record Results as Pattaya Breaks New Ground with Premier City Package.
At the heart of Bangkok, the Thailand Convention and Exhibition Bureau (TCEB) recently displayed unparalleled prowess during the iconic IT&CM Asia 2023 event. With a cumulative 405 leads across distinct exhibition zones, the bureau has underlined its dominant market position. Further enhancing the allure, Pattaya, recognized as one of Thailand's eminent MICE Cities, chose the event for the grand debut of its ambitious City Package, explicitly crafted to entice international cohorts.
The tangible momentum, reflected by the 405 leads, synchronizes seamlessly with TCEB's victory lap of 23 conference bids as the fiscal year wrapped up on September 30. Delving deeper into these leads: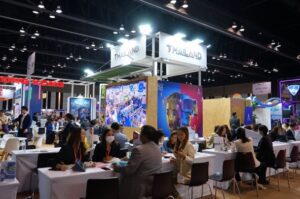 Thailand Pavilion: Witnessing the participation of 40 exhibitors, it secured 135 leads, marking a significant 43.6% surge from the previous year.
Pattaya Pavilion: With 24 exhibitors, this segment captured 150 leads.
Isan MICE Stand: With ten dedicated exhibitors, it amassed 120 leads.
In monetary terms, Thailand Pavilion's leads translate to a staggering 1,764 million baht, with a potential influx of 24,532 travellers for meetings and incentives. Pattaya Pavilion carries an expected value of 2,000 million baht, potentially attracting 30,000 travellers, while Isan MICE Stand holds a potential bounty of 1,600 million baht, enticing approximately 24,000 travellers.
Pattaya, revered as the MICE City for Thailand's Eastern Economic Corridor, strategically introduced the City Package. This inventive initiative, forged in collaboration with TCEB, includes elements like bidding support, government endorsements, strategic publicity drives, TMVS-certified venue recommendations, and proficient management of volunteers and traffic.
Isan MICE Stand uniquely positioned itself by highlighting key northeastern cities: Udon Thani, Khon Kaen, and Nakhon Ratchasima. These urban centres are pivotal economic, cultural, and educational nexus points. Additionally, Udon Thani's achievement in securing the International Horticultural Exposition 2026 cannot be overlooked. Infrastructure developments, like the high-speed rail network, are set to further accentuate the region's appeal by 2029.
Authoritative Statements:
Mr. Chiruit Isarangkun Na Ayuthaya, TCEB President, expressed, "This year's IT&CM Asia demonstrated Thailand's prowess. Pattaya and Isan, with their independent stands, contributed a lion's share of the total leads. Our commitment to unveiling potential destinations is evident as over half of the Thailand Pavilion exhibitors hail from these promising locales."
Ms. Titipun Pettrakul, Pattaya's Deputy Mayor, declared, "Pattaya is poised to capture global attention. Our inaugural City Package, fortified with TCEB's endorsement, consolidates our position as a prime MICE destination with comprehensive amenities."
Written by:

Supaporn  Pholrach (Joom)
===================================