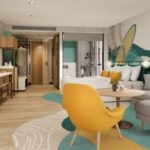 Unlocking the Future of Extravagance: M Social Phuket Paves the Path in Redefining Luxurious, Technologically Advanced Hospitality.
In the bustling heart of Patong emerges a beacon of innovative opulence, promising to transfigure the luxury travel paradigm. M Social Phuket, the latest addition to the prestigious global chain, propels holidaymakers into a universe where avant-garde design and technological sophistication blend seamlessly with unparalleled hospitality.
Ensuring not merely a place to rest but a multifaceted experience, M Social Phuket is sculpting its epoch in the hotel industry. Impeccably positioned mere footsteps from Patong Beach's crystalline waters and enveloped by a vibrant amalgamation of chic bars, artisan shops, and gourmet restaurants, this hotel is a sanctuary for those with a palate for the exclusive and extraordinary.
Amidst the contemporary and spirited aesthetics of M Social Phuket, guests are invited into a realm where every detail, from the meticulously curated Christian Lacroix amenities in each of the 418 meticulously designed rooms and suites to the dynamic culinary adventures awaiting at its restaurants, is steeped in luxurious thoughtfulness.
A Testament to Unbridled Innovation.
Revolutionizing guest interactions, Phuket's maiden AI voice-controlled assistant finds its home within M Social, delivering a touch of bespoke service and control directly to the visitor, symbolizing the hotel's undeterred commitment to redefining modern hospitality.
"M Social Phuket is not merely a hotel; it's a lifestyle paradigm. Our unwavering dedication to delivering an unparalleled, technologically advanced experience, accentuated by our vivacious design and exhilarating amenities, solidifies our distinction within the hospitality arena," expounded Mr Saurabh Prakash, Group Senior Vice President, Commercial, Millennium Hotels and Resorts.
Written by:
Supaporn  Pholrach (Joom)
===================================