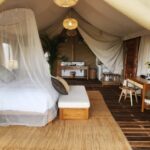 Embarking on a sumptuous sojourn that intricately intertwines indulgence with benevolence, the breathtaking Visama Mae Chan luxury tented camp is poised to grace the undulating peaks of Chiang Rai, northern Thailand, commencing November 1st. This awe-inspiring creation, manifested by the visionary Visama Hospitality Group (VHG) Asia, is not merely a haven of opulence but a beacon of philanthropy and cultural preservation.
A Jewel Amidst the Peaks:
Nestled amidst the serene, lush topography of Chiang Rai, Visama Mae Chan isn't merely an escapade into luxury but a delve into an immersive narrative of rich Lanna culture and sustainable, community-driven luxury tourism. Sprawling across a vast expanse, the property hosts ten meticulously curated tents, each baptized with indigenous hill tribe names, such as "Akha" and "Lahu". A harmonious blend of authentic Lanna aesthetics and modern-day conveniences, the spaces range between 48 to 80 sqm, bestowing guests tranquillity and regality with amenities such as espresso machines, Wi-Fi, and a 24-hour concierge.
Purposeful Luxe: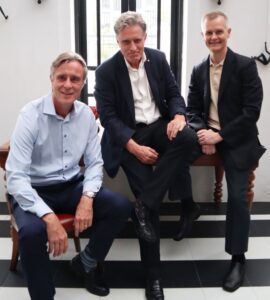 Devised with an earnest mission pulsating at its core, Visama Mae Chan operates on a not-for-profit framework, channelling its endeavours to uplift the neighbouring Friends of Thai Daughters Foundation. This U.S.-registered non-profit, sculpted by Patty Zinkowski and Jane McBride, strides towards eradicating child trafficking through the potent weapon of empowerment, explicitly aimed at young girls from hill tribe communities.
A symbiotic liaison, the foundation reciprocates its gratitude: "Visama Mae Chan's sustenance, both as a generator of sustainable income and a provider of employment avenues for our girls, renders us immensely grateful. We ardently anticipate a future of synergy and constructive partnership with Visama," expressed the directors in a heartfelt statement.
Curated Experiences:
Diving deeper, guests at Visama Mae Chan are invited to embark upon two to four-day "journeys", meticulously crafted around pulsating themes like farm-to-table dining, Lanna cultural immersion, and vibrant outdoor escapades. The eminent co-founders of VHG Asia, Willem Niemeijer of YAANA Ventures and Christopher Stafford of The Occident & Orient Company illuminated these aspects at an exclusive unveiling at the Siam Hotel, Bangkok on September 27th.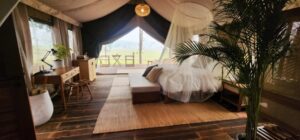 "Visama, a unique entity in northern Thailand, not only expands in physical luxury with an additional 12 tents in 2024 but extends its luxuriance into curated experiences and active preservation of the Lanna culture," elucidated Niemeijer, a veteran in pioneering eco-lodges across southern Thailand and Cambodia.
Epitomizing Culture and Cognition:
Within the enclosures of Visama, guests will stumble upon The Ambalama, a realm of stories and insights shared by a melange of authors and historians. A culinary journey awaits at the Reu Doo Gaan restaurant, intertwining the rich flavours of Lanna cuisine, local organic fare, and international favourites.
A Canvas Beyond:
Envisioning a future beyond its inaugural entity, Niemeijer shared with travel affiliates, "Visama is conceived with a meticulous design ethos, intertwining our camps with their natural milieu, offering our guests rejuvenating encounters with nature whilst basking in modern amenities and global-class service."
Moreover, Chris Stafford, VHG's Chief Operating Officer, emphasizes an immersive experience, elucidating, "Our aim at Visama is to drown guests into a mélange of luxury and Lanna culture, all set against the mythical mountains of the Golden Triangle."
With bookings inaugurated on September 27, 2023, for stays commencing November 1, 2023, further details and reservations for Visama Mae Chan can be discovered at https://maechan.visamalodges.com. Alternatively, prospective guests can initiate correspondence via email at Darunee@visamalodges.com.
Written by:

Supaporn  Pholrach (Joom)
===================================